The whir of a dentist's drill or a helicopter's blades, the smell of oil or gasoline, the shuffling of restaurant menus – any of these sensory experiences can suddenly make Derl Horn, 79, feel like he is once again caught in a hail storm of bullets and grenades. The former Marine's comforts are simple and few: his wife Marilyn, his Christian faith and a 3-year-old maltipoo named Gracie.
Gracie, a trained service dog, accompanies Horn wherever he goes, including grocery stores, medical offices and restaurants. She is there to offer him comfort whenever a sight, sound or smell makes him feel like he is back in a Vietnam war zone.  
"She might (rub against my legs), or if I'm wanting her, I'll pick her up or reach down and touch her," Horn said. "The touch is the main thing, it helps with your mood and stress and whatever is going on at the time."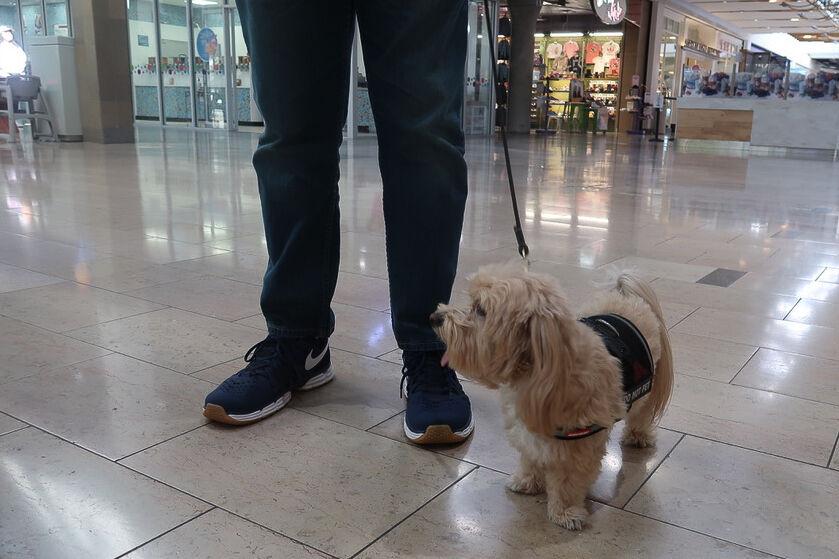 Gracie started her 14-month training to be a service dog in February 2020 under the supervision of trainers Don Gardner and Marsha Wyatt of the nonprofit Service Dogs of Distinction. The organization provides service dogs to veterans diagnosed with post-traumatic stress disorder, a psychiatric condition in which people experience intense thoughts and feelings related to a traumatic event. The group's trainers assess the needs of individual veterans and match each with a dog that best suits those needs.
Most dogs Gardner and Wyatt train are larger breeds such as German shepherds or Labrador retrievers, but Horn knew in his heart his little dog Gracie would be perfect for the job, he said.
Some tasks, like opening and closing doors, are more difficult for Gracie to complete because of her size. She can also be a little excitable, but otherwise Gracie performs just as well as any other service dog, Horn said.   
Gracie's training involved learning to follow basic commands including "sit," "stay" and "come," and to be obedient in public. This includes staying calm when she is around crowds and when people pet her. Gracie knows how to get in and out of Horn's vehicle and picks up small items for him when he drops them.
Marilyn Horn, 77, has been married to Horn for almost 58 years. She said Gracie is a great asset to the couple's family.
"I can tell Gracie is a great comfort and companion to Derl," Marilyn said. "She's very attentive. Wherever he is, she is watching, looking for his approval and of course commands that he gives her."
Wyatt thinks the impact a service dog can have on veterans is tremendous, because the dogs help them be more confident in public and lower their anxiety, she said.
"The dog becomes a true battle buddy, that 24-hour 'I-got-your-back' buddy that they haven't had since they've left the military," Wyatt said.
Sometimes people question Horn when he brings Gracie in public, asking about his specific health needs because they do not understand, he said.
"We just have to tell (them) that she is a service dog and she helps me with the issues that I have, that I accumulated in Vietnam and serving my country," Horn said. "Usually it goes well."
Horn was drafted into the Marines in 1966, when he was 23, and departed to serve in the Vietnam War on June 2, 1967. He was a member of the 1st Battalion, 9th Marines, otherwise known as "The Walking Dead." The unit suffered the highest casualty rate of any unit in Marine Corps history.
Horn remembers "Operation Buffalo," in which 150 Marines in his company fought alongside several other Marine companies to defend their Con Thien stronghold from the North Vietnamese Army in July 1967. Horn was one of 26 unit members who survived the operation. 
"I have these thoughts, I have memories, near-death experiences that come back and haunt you, because when you are close to death you do not forget that," Horn said.
Horn did not realize he was experiencing PTSD until he began attending counseling provided by the Veterans Health Care System of the Ozarks about 15 years ago. By talking through his experiences, he learned how to articulate them to others, which is something many veterans choose not to do, he said. In 2015, he published a book called "Blood, Sweat & Honor: 'Memoirs of a Walking Dead' Marine in Vietnam" describing his horrific experiences while in the Marine Corps.      
"Many (of our unit members) were shot and stabbed multiple times. Some had been nailed to trees and stripped of tattoos and body parts," Horn wrote in his book. "It is hard to believe that men can be so cruel to other men. Again, we were the Walking Dead, more dead than alive. Seeing our buddies die these horrible deaths left us with awful mental scars that have haunted us for the rest of our lives."
Now, whenever Horn starts to react to a triggering sight or smell in public, or a terrifying dream of the past startles him awake in the middle of the night, Gracie is just an arm's reach away.
"She's just comforting," Horn said. "Whatever I do, she just kind of molds to me."
Gracie even served as Horn's hiking buddy through several national parks in September, nestled in a backpack strapped to his shoulders.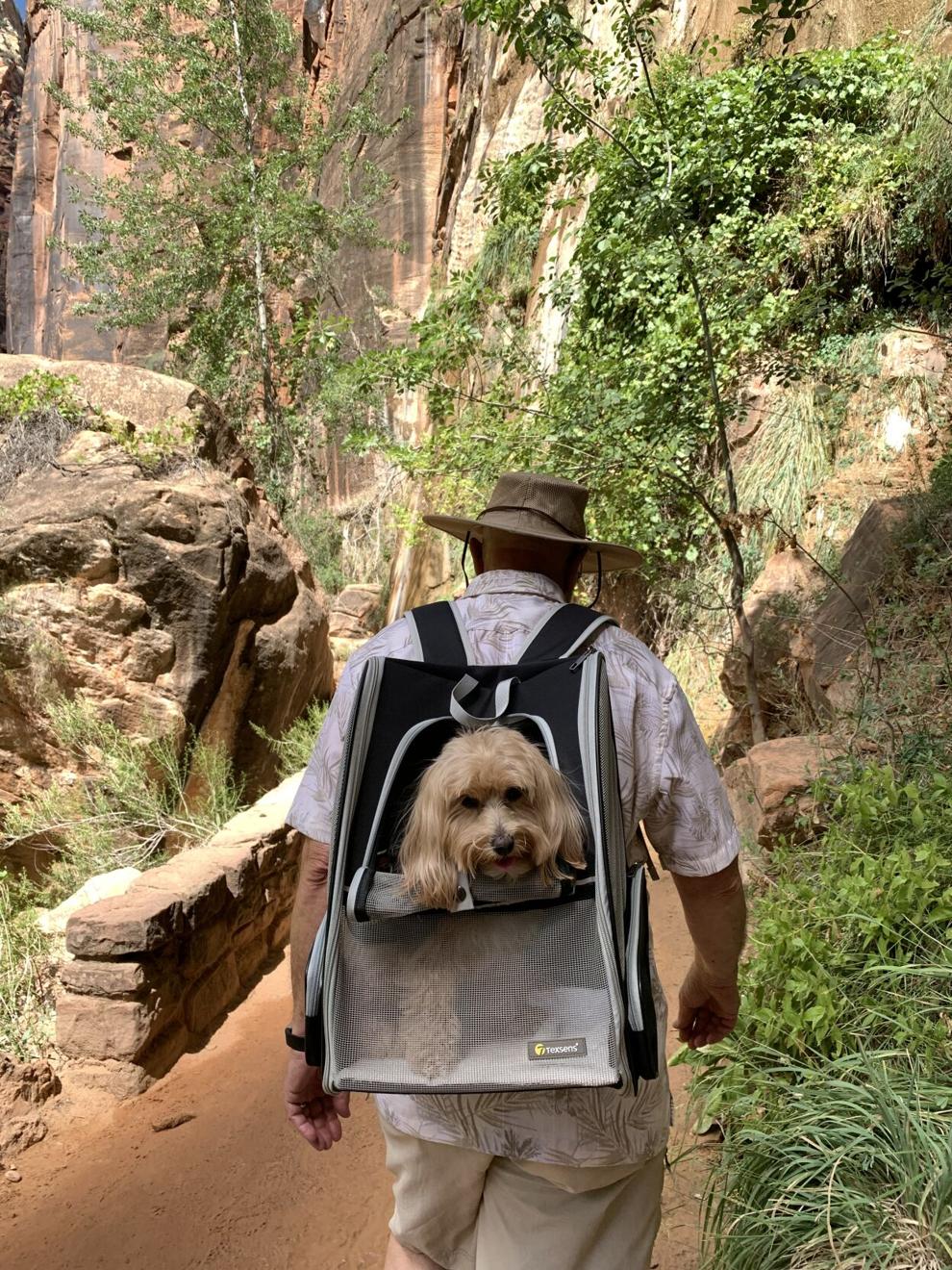 Horn and his wife Marilyn agree Gracie has changed their lives for the better, and Horn is grateful to have such a sweet and loving companion, he said.
"She's just really been a part of me pretty much, and everything I do she's just there," Horn said. "She reads me and knows how to react and what to do. I really am just so happy to have her."