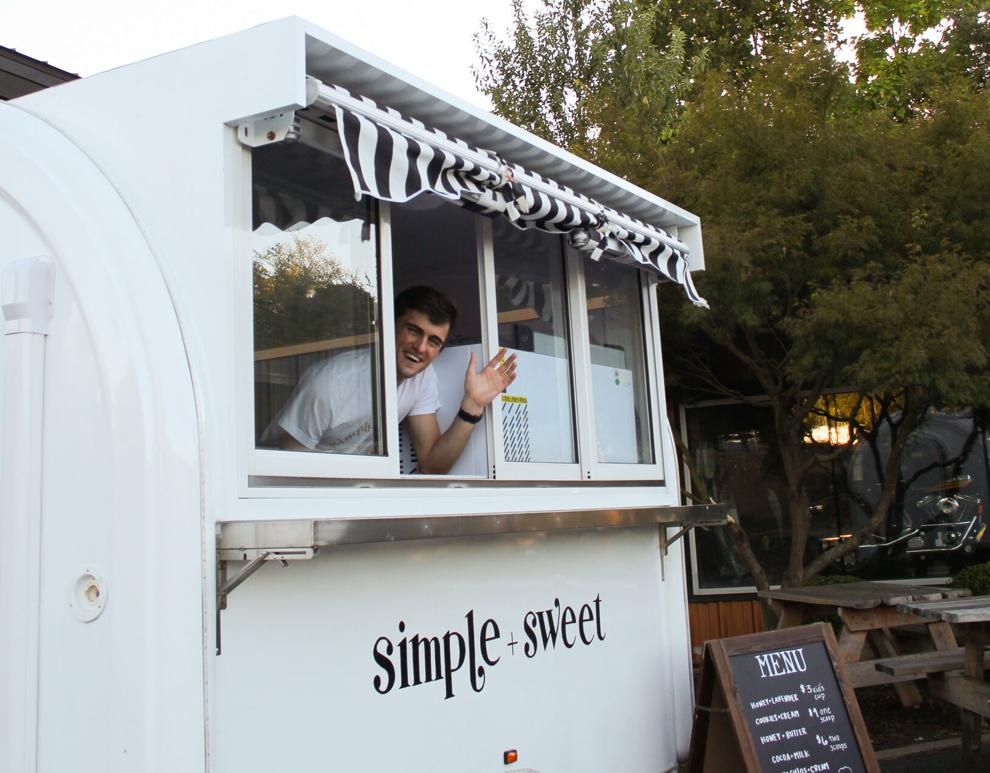 When the current president of Associated Student Government, a junior at the time, first witnessed child hunger up close, he knew had to do something to help. So the student swirled together his love for ice cream and his love for the NWA community to create the perfect sweet concoction — with a cause.
Coleman Warren founded his company Simple + Sweet Creamery and began selling ice cream online in October 2020. In the year since, he has expanded the business to include a food truck and a weekly booth at the Fayetteville Farmers' Market in warm months. Warren donates 100% of the profits to the Northwest Arkansas Food Bank.
Warren volunteered with AmeriCorps VISTA, a national service program intended to fight poverty, in the summer of 2019. While he was volunteering with the program, Warren traveled to Omaha, Nebraska, and worked with Food Bank for the Heartland to feed hungry kids. His experiences inspired him to help combat food insecurity in his home state.
"It totally changed my life," Warren said. "One thing that was really striking to me was that I've had a lot of privilege socioeconomically. I had acknowledged that privilege before, but I sort of got to witness firsthand the privilege of having food — one that I don't acknowledge often enough."
Bailee King, the creative director for Simple + Sweet and Warren's fiancée, also went on the AmeriCorps VISTA trip, where their team helped feed about 600 children a day.
"It definitely opened my eyes to the way different kids grow up," King said. "Obviously, I'm very privileged, and it helped me realize that. I also learned a lot about hunger and how it's a bigger issue than just families not having food."
Warren and King's lives were changed by their experience in Omaha, they said. 
"These kids were smart, and they were joyful and loving and happy," Warren said. "They were just like me, but they didn't know where dinner was coming from." 
Warren, who grew up in Farmington, wanted to do something to help serve his community in Arkansas — which ranks in the top five U.S. states for food insecurity, according to the Northwest Arkansas Food Bank. 
"I came home, and I was like, 'This is something that is hurting my state big-time," Warren said. 
The idea for Simple + Sweet came to Warren while he was in the middle of a class in fall 2019, he said. He realized he wanted to open an ice cream shop that functioned as an economic engine for a local non-profit.
While in Omaha, Warren and King had eaten some of the best ice cream they ever had, Warren said. He wanted to recreate that quality in Northwest Arkansas. 
The ice cream in Omaha was better because it had a higher butterfat content, Warren said. While most ice cream in NWA is classified  as"premium" and has about 10% butterfat, what Warren tried in Omaha was advertised as "ultra premium," meaning it contains about 20%. 
Neil McWilliams, the former president of the National Ice Cream Retailers Association, helped show Warren the ropes of ice-cream making in February 2020. 
"I got out of class at 11:35, and we went to Mammoth Spring and made a bunch of ice cream with him for eight hours straight," Warren said. 
Using a $20,000 gift from a friend, Warren bought an ice cream machine from eBay. He began to make small batches of ice cream out of the kitchen of his former school, George R. Ledbetter Intermediate School in Farmington.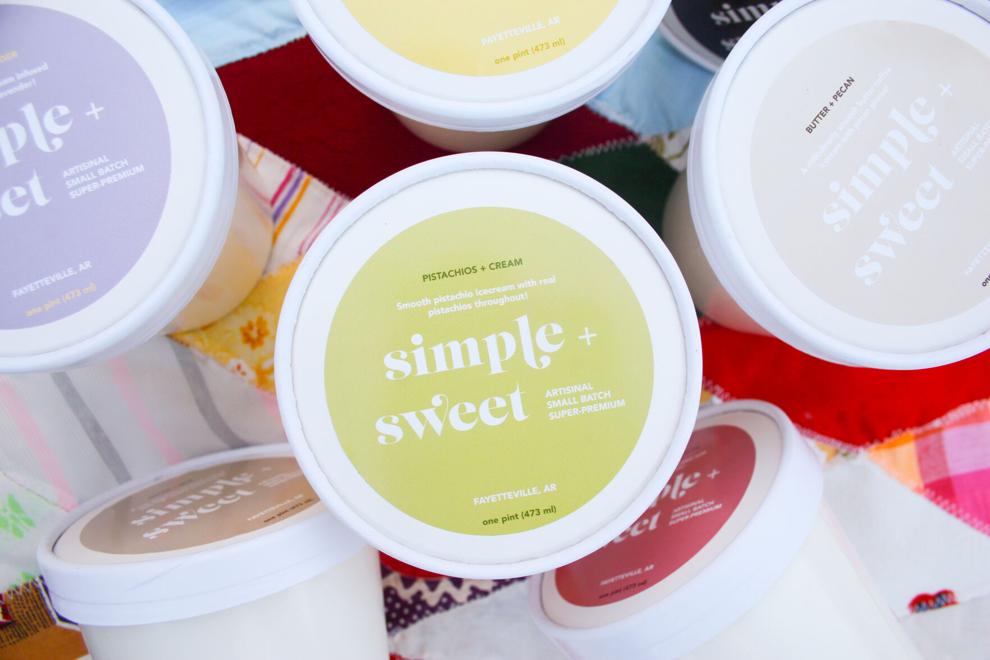 "To prove that our product was superior, we started bringing the ice cream to ASG events and Volunteer Action Committee events and having college students try it and rate it compared to other places," Warren said. 
Ky Mengler, a freshman, thinks Simple + Sweet is the best tasting, highest quality ice cream in NWA, he said. Mengler had gone to the farmers' market a few times, but only tried Simple + Sweet recently.
"I was always like, 'It's too early, I don't want ice cream for breakfast,'" Mengler said. "But now that I've had it, I might be having some ice cream for breakfast."
Simple + Sweet ice cream has 14% butterfat and is made in small batches, which makes it creamier, Warren said. It is also made from locally sourced ingredients because Warren wanted to support the local economy. 
Every dollar raised from Simple + Sweet sales funds eight meals at the food bank, Warren said. Warren has donated about $2,000 since he started the creamery, equivalent to about 16,000 meals. 
"My long term plan would be to have a brick and mortar in Fayetteville, move the truck to Springdale, and then source wholesale for Harps and (Ozark Natural Foods)," Warren said. "I want this to stay in Arkansas. I want this to be something that our community gets behind."