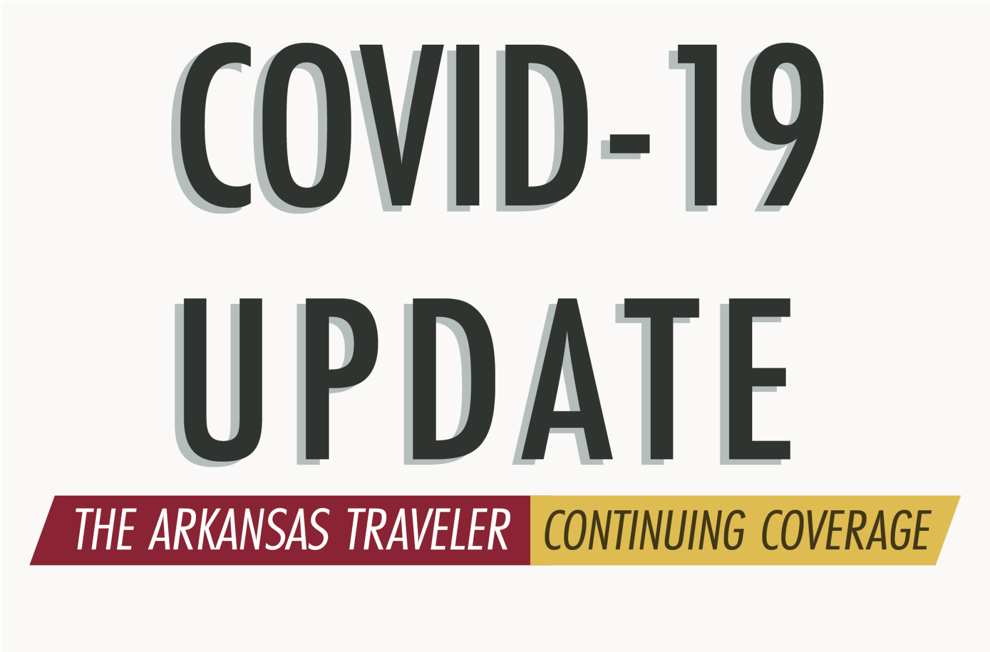 Gov. Asa Hutchinson announced the availability of Pfizer COVID-19 vaccine booster shots in Arkansas during his weekly press conference Tuesday.
"I thought it was important to emphasize to all of Arkansas that booster shots are available," Hutchinson said before he, his wife and Secretary of Health Dr. Jose Romero received third doses of the vaccine. Almost 28,000 Arkansans have already received a third dose, according to Arkansas Department of Health data.
President Joe Biden also publicly received a booster shot Monday, posting the video to social media Tuesday.
"The COVID-19 booster shots will provide even more protection from COVID-19 for those who are at greater risk," Biden wrote in a tweet. "That's why today, I got my booster — and encourage everyone who's eligible to do so as well."
Hutchinson shared a graphic outlining Arkansans' eligibility to receive a third dose of the Pfizer vaccine during the press conference. Those interested in receiving a booster shot must have completed the Pfizer series at least six months before their booster.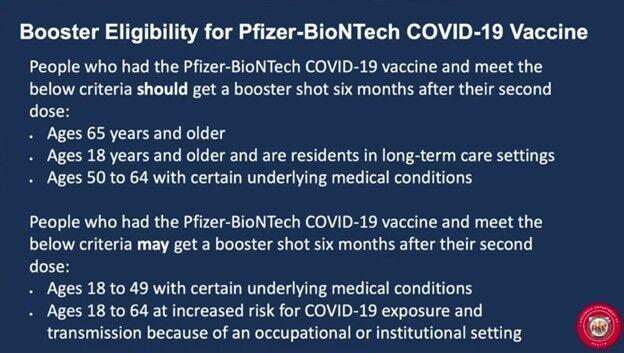 State health officials had administered about 2.89 million vaccine doses to Arkansans by Tuesday, according to the ADH, with 294,313 people partially immunized and over 1.33 million people fully immunized. Approximately 9,431 new doses were administered between Monday and Tuesday, with almost 39,000 administered in a week.
The more than 1.33 million fully vaccinated Arkansans represent 52% of the state's total vaccine-eligible population. About 64.8% of Americans 12 and older have been fully vaccinated, according to the Centers for Disease Control and Prevention.
Seventy-seven percent of Arkansas' vaccine supply — over 3.75 million doses — had been administered by Tuesday.
Statewide, total active cases of COVID-19 (confirmed and probable) fell to 10,858 Tuesday, a decrease of 647 in a day and 3,367 in a week, according to the ADH. Total cumulative cases increased by 800 Tuesday, for a total of 493,920. That number rose by 7,067 in a week.
The ADH reported 21 new deaths from cases of COVID-19 Tuesday. The additional deaths bring the toll in Arkansas to 7,651, up 152 in a week.
Hospitalizations in Arkansas dropped to 809 Tuesday, down by 26 in a day and 184 in a week, according to the ADH. Statewide, 225 patients were on ventilators Tuesday, a decrease of nine from Monday and 53 from Sept. 21.
Washington County officials reported 686 total active cases and 43,125 total cumulative cases Tuesday. Benton County reported 721 total active cases and 40,553 total cumulative cases Tuesday, according to the ADH.
Total active cases fell by 24 in a day and 425 in a week in Washington County. In Benton County, active cases fell by 36 in a day and 305 in a week. Total cumulative cases in the two counties increased by 476 and 451, respectively, in a week.
Active COVID-19 cases on the UA campus fell to 37, a decrease of 41, while total cases rose by six between the reporting period of Wednesday-Thursday and the reporting period of Friday-Sunday, according to the Pat Walker Health Center COVID-19 Dashboard. Of current active cases, 33 are students and four are staff.
From Friday to Sunday, university officials conducted 70 tests, two of which were positive. Four additional cases were self-reported.
During the week of Sept. 20-26, 17 of 479 on-campus tests were positive, for a positivity rate of 3.5%. The week saw 36 total new cases and a peak of 95 active cases during the Monday-Tuesday reporting period.