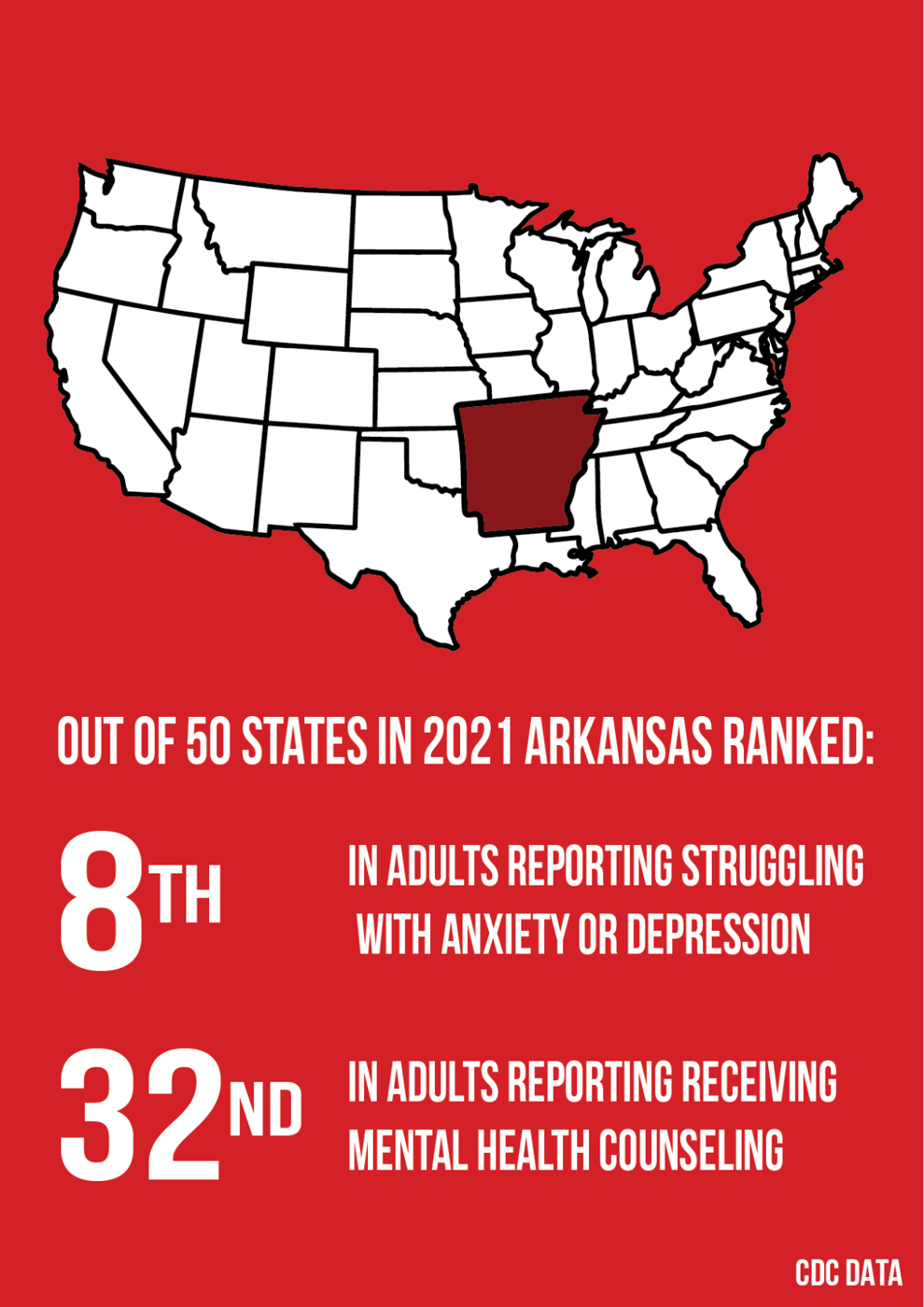 The COVID-19 pandemic has jeopardized the world's physical health, but many UA students have also coped with increased mental distress over the past year and a half.
Of 195 students surveyed at a large public university in 2020, 71% said their anxiety increased after the outbreak of COVID-19, according to a study published in the Journal of Medical Internet Research.
At the UofA, the number of students seeking services at Pat Walker Health Center's Counseling and Psychological Services resource center has risen over the course of the pandemic, said Zac Brown, director of communications for the Pat Walker Health Center.
"If you look at the last couple of years, we have seen this increase in students not only seeking services, but the emphasis on mental health," said Brown. "We've seen increases in students reporting high levels of anxiety or depression."
Arkansas ranked eighth out of 50 states in the number of adults who reported struggling with anxiety or depression in 2021 but only 32nd in the number of adults who reported recently receiving counseling services, according to Centers for Disease Control and Prevention data.
For freshman Libby Schuler, the stress of the pandemic added to the stress of her daily responsibilities has caused her mental health to decline, Schuler said. Although CDC experts recommend taking time for leisure to ease pandemic-related stress, Schuler's stress comes from an overcrowded schedule, so that solution is unworkable.
"I don't sleep very much," Schuler said. "I get an average of, like, five hours a night. I got six last night and it was great. I work 20 hours a week and I'm a double major, so I have a lot of homework. Weekly, I have probably 25 to 35 hours of homework. This weekend, I'm going to work 22 hours. Just this weekend. It's a vibe."
Schuler copes with her stress by maintaining a tight schedule and rigid work ethic, she said.
"I'm a perfectionist and I have really high expectations for myself," Schuler said. "It's caused problems in the past, but it's also good for me because I can achieve those standards. I just have to push myself and not be lazy, and I do that. There's a healthy balance between understanding my limits and reaching my full potential."
Freshman Micah Quiambal takes a more relaxed approach to managing her stress and protecting her mental health during the pandemic, she said.
Quiambal divides up her schoolwork every day to complete each assignment in a timely manner, while also working in time for leisure and relaxation to motivate her, she said.
Quiambal thinks it is important for students struggling with mental health issues to reach out, she said.
"Talk to your friends who are going through the same thing, because they might be struggling too and you can get through it together," Quiambal said.
Brown thinks individual students face their own problems and likely need their own solutions, he said. CAPS counselors focus on matching students to personalized counseling services, determining the services that work best for where they are, Brown said.
The biggest challenge facing CAPS is the compounding stress of the coronavirus pandemic, which has affected many students in a similar way, Brown said.
"We recognize that our biggest challenge, as we are wading through an in-person semester for the first time in two years, is trying to meet the needs of students and address the major challenges and struggles that I think everybody has endured throughout this pandemic," Brown said.
For Schuler, who does not have time in her schedule to attend mental health counseling, surviving as best she can is her main priority, she said.
"I'm chilling," Schuler said. "I'm not dead yet."