Around 30 people gathered Saturday in downtown Fayetteville to support one another in light of a new bill in the Arkansas Senate, which specifically targeted members of the LGBTQ community before it was amended. 
Attendees held signs with phrases such as "They come for one of us, they come for all of us" and "Support trans youth." People spoke about the rage and hurt caused by bills such as Senate Bill 43, with audience members clapping in enouragement of one another and chanting "Trans lives are worth the effort!" 
In its original form, SB43 defined drag performances as when a person sings, lip-syncs, dances or otherwise performs before an audience of at least two people while exhibiting a gender different than that assigned at birth. It also moved to classify drag shows as adult-oriented businesses and add restrictions to such performances. Intransitive, an Arkansas-based trans advocacy group, posted to its Instagram page Jan. 9 that the bill would mean no "trans events" on public property, no drag at pride events, no drag story hour and more.
SB43 passed the Arkansas Senate Jan. 24 with a vote of 29-6. The Arkansas House Committee on City, County and Local Affairs passed the bill Wednesday with amendments defining adult-oriented performances as those that are "intended to appeal to the prurient interest," offensively depict or describe sexual conduct and/or lack "serious literary, artistic, political or scientific value for minors."  
While the amendments remove language specifically targeting the LGBTQ community, the bill's original proposal has still sent a startling message to LGBTQ Arkansans. Brynhildre Underwood, an organizer of Saturday's protest, said her first reaction to SB43 was one of outrage, confusion and fear.  
"My goal with this protest (was) to take all the negative feelings that the community may be feeling whether that is anger, fear or depression or anything else," Underwood said. "And to use those emotions to turn everyone inward, stoke the fire of self-love, compassion and community building so that we can come together as a community to take care of one another."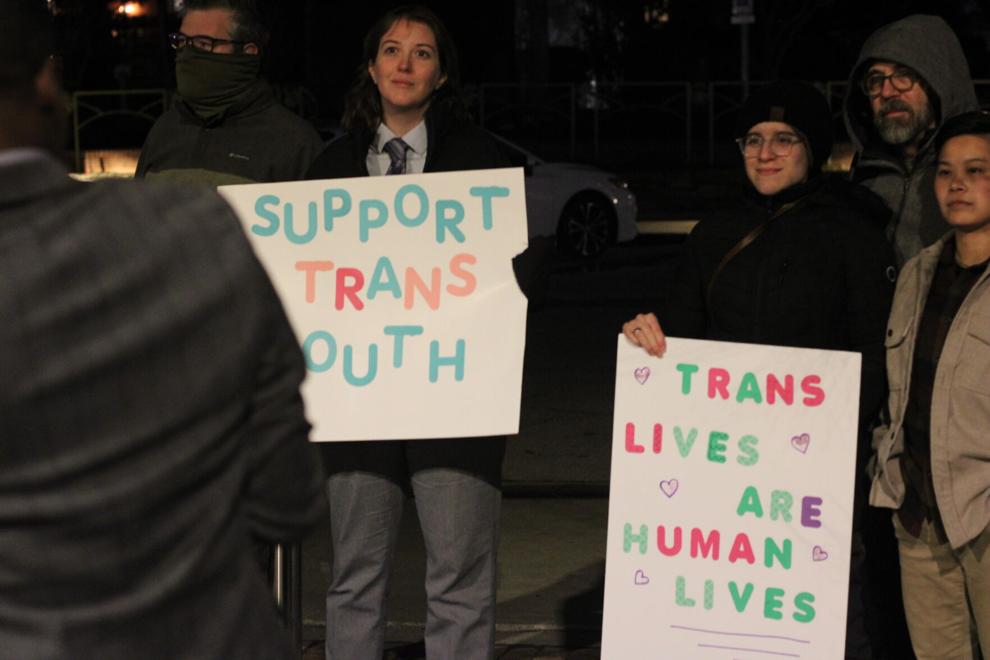 Prior to Saturday's protest, opponents of the bill made their voices heard through methods such as banners, flashmobs, contacting legislators and testimonies. A rally took place Jan. 19 on the steps of the Arkansas State Capitol in Little Rock, where attendees gathered as an act of love and defiance, singing "Seasons of Love" together.  
Jay Henning, 19, of Little Rock, decided to come out to the protest because he thinks it is important for community members to show support for one another, he said. 
"There's a lot of things happening right now attacking people that are (just) existing, and it's important to show that people care about it," Henning said. 
The transgender community is much larger than people think, Henning said, and members are just fighting for their rights to exist and be happy.
Eclipse Adams, 37, of Springdale, said Northwest Arkansas has one of the largest transgender communities he has ever been a part of, so it is quite troubling to see bills such as SB43.
"We're just humans trying to be our true authentic selves," Adams said. "We want to be part of a community and thrive just as much as everyone else here."
The American Civil Liberties Union of Arkansas described the bill as "a red herring and more broadly (an) attempt to erase LGBTQ people from public life by forcing gender norms onto private businesses and individuals" in an Instagram post Jan. 15.
Skylar Connover, 27, of Fayetteville, said she feared for her future in Arkansas as a transgender singer-songwriter due to the performance restrictions.
"It feels like they're trying to take the entire trans community and force them into this box that is meant to make people afraid of us, and the bill heightened that fear," Connover said.
The Rev. Dr. Steven Gaines, the minister of Unitarian Universalist Fellowship of Fayetteville, was also in attendance at the protest. Gaines, 44, said unitarian universalists' first principle is the inherent worth and dignity of every person. 
"I wanted to come out because of the previous versions of the bill that targeted many in the queer community," Gaines said. "And even though the bill got gutted, the initial versions had a negative effect on progress." 
Even if a bill does not pass, it still has an effect on people's attitudes and thoughts, Gaines said. 
The theme of the protest was one of visibility, love and compassion. Adams said he has experienced many Arkansans' compassion and receptivity since coming to the area and so seeing bills here targeting specific groups just does not feel right. Adams knows that Arkansas can do better.    
"I think it does make sense to put boundaries in place for adult entertainment, that makes absolute sense," Adams said. "But when you start defining it in a way that targets people that aren't involved in that, it's damaging because then you're starting to bring people into it that don't even need to be there."