The UA Schola Cantorum brought its musical adaptation of "A Child's Christmas in Wales" back to the stage for the eighth time last week, following a year of virtual rehearsals and no holiday production in 2020.
The 38 members of the choir performed "A Child's Christmas in Wales" Tuesday in Hot Springs, Thursday on campus and Saturday in Batesville. The production is a dramatic reading of Dylan Thomas' short story incorporated with choral music to enhance the action. The holiday production, which the choir began performing in 2013, is generally festive, nostalgic and mostly secular, said Stephen Caldwell, UA director of choral activities.
"I think that makes it universally applicable," Caldwell said. "Those who celebrate Christmas as a religious holiday can hear the religious component in the nostalgia, but those who celebrate only the secular aspects of the Christmas season are able to hear their own nostalgia without the religious teachings."
The production is very popular with alumni and audience engagement has always been high, Caldwell said. The songs change each year, so people coming back can experience the same story in different ways.
Henry Runkles, a UA piano instructor and the show's narrator, said the power of the in-person music is indescribable.
"Performances are wonderful," Runkles said. "Getting to work with all the people is wonderful. It's just a great young group."
The year-long hiatus from in-person performances during the height of the COVID-19 pandemic greatly affected many Schola Cantorum members. During the 2020 fall and spring semesters, the choir operated virtually, and members attended rehearsals via Zoom. The group members had to figure out a way to keep singing together, even though they were all in different locations, said Davis Vaughn, a junior majoring in music composition and member of Schola Cantorum.
The choir's first in-person concert since March 2020 was in October. Vaughn said not performing for live audiences made him feel empty.
"It made me feel like I was missing the thing that was the reason I wanted to do music as a career in the first place," Vaughn said.
Schola Cantorum member Sophia Lopez, a senior, said the choir members lost their sense of community because they could not meet regularly.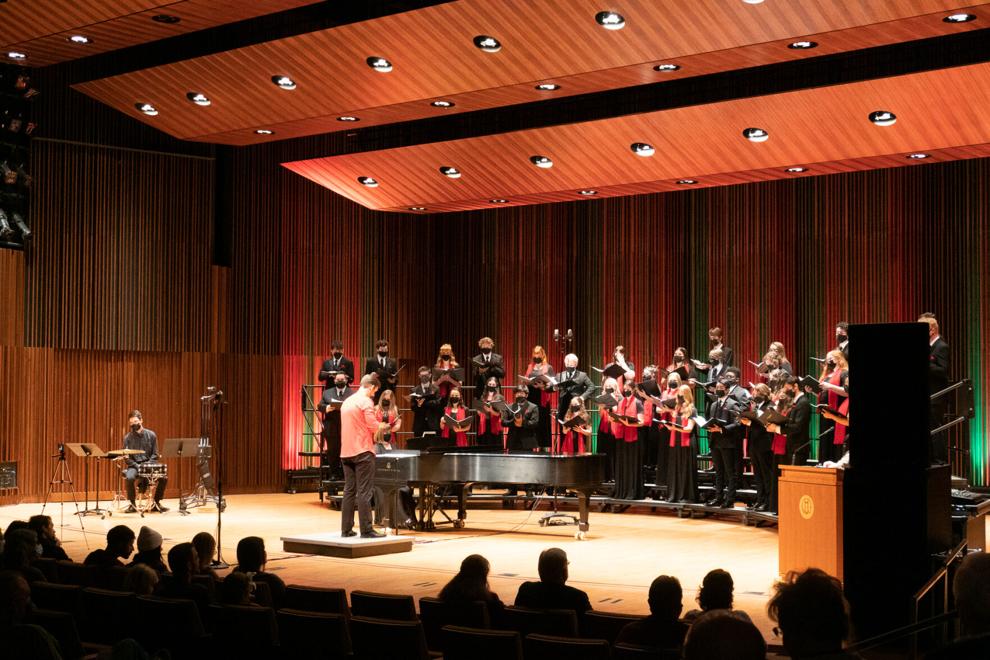 Despite the distance, the group completed an all-virtual project last year titled "2020: Alone Together," which detailed the members' experiences with loneliness during the pandemic while maintaining a sense of hope, Vaughn said.
Being able to return to live performances was rejuvenating, Runkles said. It is great to feel like he is participating in life, rather than living it remotely, he said.
"To be able to participate in something like that, with live performances, it's why we're here," said Runkles. "They're all very bright, very talented, it's a very convivial atmosphere, it's pretty well charged, it's not a lazy group to be in."
Lopez is grateful for the opportunity to be singing live during her senior year, she said.
"I missed the group and I missed making music together," Lopez said. "There's nothing quite like it."
Schola Cantorum's musicians are still adjusting to the transition back to in-person performance. Members stay three feet apart from one another and continue to wear masks. Singing in masks is challenging because it makes it harder to articulate clearly, which makes the storytelling aspect of singing more difficult, Caldwell said.
Regardless, the choir members are happy to have returned to live performances, and some even cried on their first day back in person, Vaughn said.
"Even though my in-person time with (the choir) has been cut shorter, being with them now has made me realize how much I appreciate singing with them in-person," Vaughn said. "It's just incredible being back."