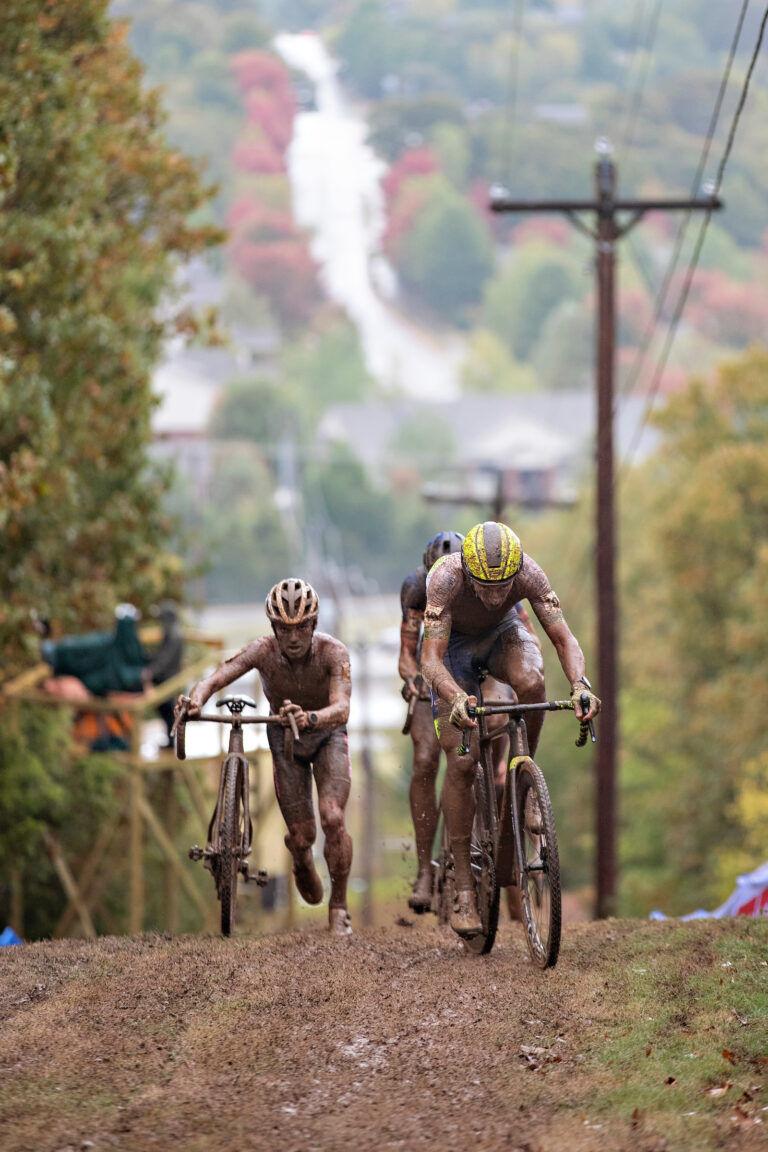 Cycling competitions estimated to bring over 15,000 tourists from more than 30 countries to Fayetteville have prompted LGBTQ community advocates to raise questions about financially supporting a state with laws that target transgender people.
In February, Fayetteville became the first city in the United States to receive the designation of Bike City from the Union Cycliste Internationale, the world governing body for sports cycling. Fayetteville earned the title partly because of the high-profile cycling competitions it was scheduled to host, including the UCI Cyclo-Cross World Cup, which took place Oct. 13. The UCI Cyclo-Cross World Championships are scheduled for Jan. 29-31 in Fayetteville. 
Arkansas Gov. Asa Hutchinson signed Act 461, also known as the "Fairness in Women's Sports Act," into law March 25. The law bans public schools and higher education institutions from allowing transgender girls and women to participate on sports teams consistent with their gender identity. 
The Arkansas General Assembly also passed Act 626, the "Save Adolescents From Experimentation (SAFE) Act'' on April 13. The law, which Hutchinson vetoed before the legislature overrode that veto, would have banned healthcare professionals from providing gender-affirming healthcare to transgender minors, regardless of parental consent. In July, U.S. District Judge Jay Moody blocked the enforcement of Act 626, but Arkansas Attorney General Leslie Rutledge plans to appeal Moody's decision, she announced in a July 21 news release.
Weeks after Hutchinson signed Act 461, Molly Cameron — the first and only openly transgender cyclist to compete in a UCI Cyclo-Cross World Cup — flew to Arkansas and spent 10 days speaking with transgender Arkansans. After her visit, Cameron founded the organization Riders Inspiring Diversity and Equality (RIDE) to combat what she sees as the cycling community's inaction on anti-LGBTQ discrimination.
Cameron wants to spark conversations about transgender people's rights in Arkansas while the cycling world's attention is on the state during the UCI competitions, she said. 
"We don't have anyone or anybody advocating for us," Cameron said. 
Organizations including Intransitive, Lucie's Place and the Young Transwomen's Project support a boycott of Arkansas and Arkansas-based companies Walmart and Tyson Foods, according to Intransitive. These organizations' leaders have asked the UCI and the NCAA to relocate competitions out of Arkansas until Act 626 and Act 461 are no longer in effect. 
"If any business is to stand by without taking action, then their message is loud and clear; they do not care about the wellbeing of transgender people," Carmen Gresham, a 24-year old transgender activist who testified against the medical care ban in the state legislature, wrote in an open letter for Intransitive.
In May, Northwest Arkansas Equality  —  a nonprofit organization that provides resources for the local LGBTQ community — was overwhelmed with emails and phone calls from people voicing concerns about the UCI competitions, said NWA Equality president Joseph Porter. Those contacting the organization were concerned about visiting a state with discriminatory laws.
NWA Equality did not join the boycott, because that would have made it more difficult to build goodwill and community support in NWA, Porter said. Instead, representatives of the organization spoke with UCI Cyclo-Cross World Cup attendees about LGBTQ inclusion. 
Cameron is meeting with representatives of every major U.S. cycling brand to ask them to officially voice support for the LGBTQ community in cycling, she said.  
Once a few large bike brands take a public stance regarding discrimination against transgender athletes, many others will follow, Cameron said. 
Although no large brands have done so yet, the leaders of several Arkansas-based bike companies have. Officials for USA Cycling, the U.S. cycling governing body, also issued a statement in opposition to the Arkansas laws April 8. They said in their press release that they would only consider venues that "welcome all our members" for future USA Cycling National Championships. 
"The real action is getting these brands to actually implement anything," Cameron said. "You know, no more 'thoughts and prayers' and start actually improving the lives of LGBTQ people." 
Cameron sometimes feels exhausted by being the go-to-advocate for transgender people in cycling, she said.
"How hard can I push?" Cameron said. "You know, if you go screaming at anybody in cycling, 'Hey, trans kids are dying, trans kids are dying,' after a while, maybe it has a little impact, or it just doesn't and their eyes glaze over and it's in one ear out the other."  
There are many lessons that cycling governing bodies can learn from other outdoor sports, Cameron said. 
Elyse Rylander is the diversity, equity and inclusion manager for Quality Bicycle Products and the founder of OUT There Adventures, a non-profit organization that offers LGBTQ children  outdoor recreation experiences.  
Rylander wants the cycling community to emulate how similar sports such as climbing and canoeing have approached diversity, equity and inclusion, she said at a panel discussion on LGBTQ cycling inclusion at the Fayetteville Town Center on Oct. 12.  The national governing bodies for sports climbing and paddle sports have developed multiple DEI initiatives in recent years, including creating dedicated task forces and implementing the recommendations of non-profit organizations dedicated to inclusion in sports.
"Let's not repeat the follies of the past," Rylander said. "Let's look outside of this sector, and figure out what has worked in adjacent and similar industries. Bring that information, and maybe some of those people, into this space to help guide us to move forward so we can do that work faster." 
Those concerned about transgender rights in Arkansas should get involved with grassroots organizations that are led by transgender people and people of color, said Jasmine Banks, co-founder of the LGBTQ mutual aid group Reconcile Arkansas, which backs the boycott. If those with vested interests and their allies vote in state and local elections, it might help build a government that can create a progressive future, she said. 
UCI and USA Cycling representatives did not respond to requests for comment.