As a months-long nationwide labor shortage continues to rock the hospitality business, restaurateurs in Northwest Arkansas are doing what they can to adapt to new challenges.
Despite a volatile pandemic year when U.S. unemployment hit a record high 14.8%, according to the Congressional Research Service, poverty is projected to be nearly halved in 2021 compared to pre-pandemic levels. Owing to federal aid distributed under the American Rescue Plan Act of March 2021, the annual poverty rate that takes into account income and aid is projected at 7.7% in 2021, compared to 13.9% in 2018, according to the Urban Institute. 
After the infusion of federal assistance, including stimulus payments and boosted unemployment benefits, some Americans chose to leave lower-paying jobs or not return to those they lost in spring 2020.
Liz Hanks, a senior Spanish and Latin American studies major and mother of two, left the hospitality business for good in late summer 2020. She had been working at First Watch, a brunch restaurant in Fayetteville, since it opened in 2018, she said. Hanks received $600 in weekly unemployment benefits while First Watch was shut down at the beginning of the pandemic.
Hanks returned to First Watch in early summer, but after months of receiving verbal abuse and low tips from customers upset about the restaurant's COVID-19 policy, she decided to quit her job. In addition to unemployment benefits, she had saved the money she earned from two stimulus checks and additional stimulus money the federal government sent her instead of her ex-partner, because he owed child support.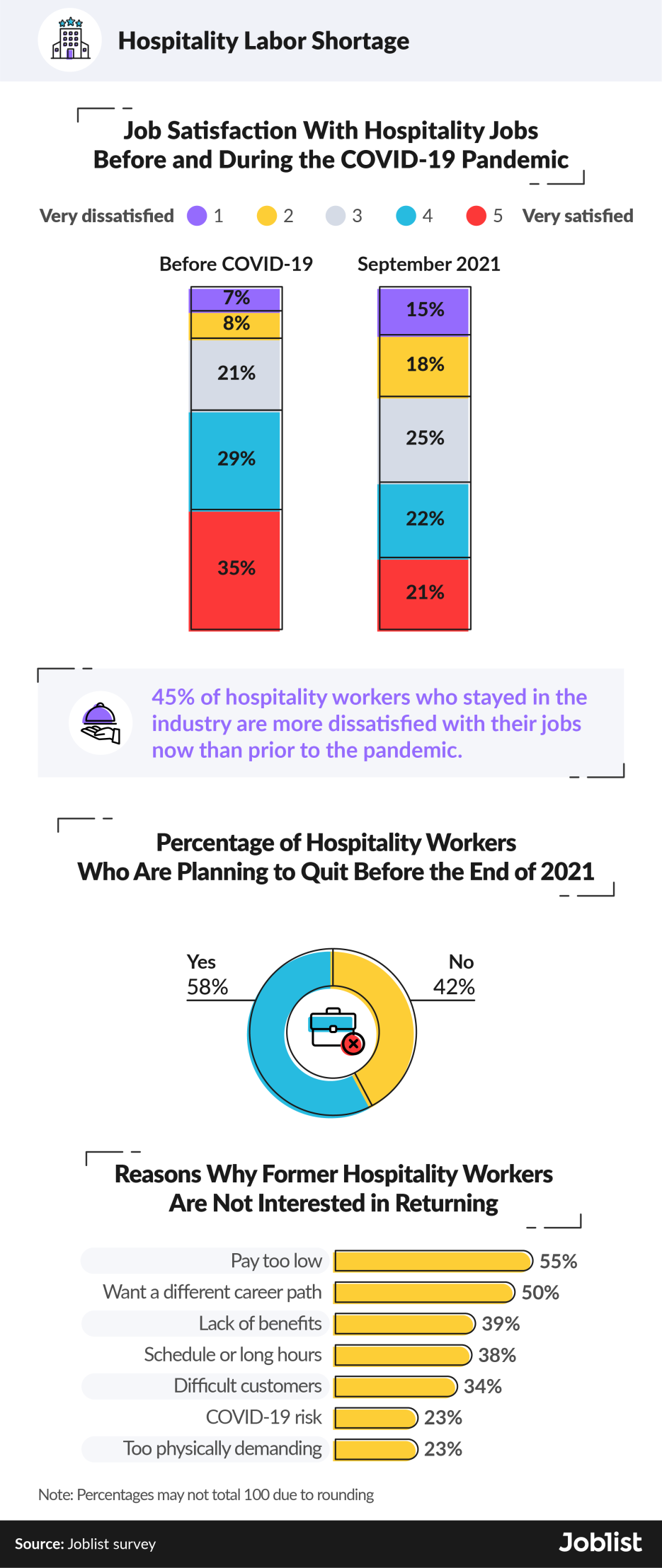 "I was like, 'Screw it,'" Hanks said. "I don't want to get sick. This job sucks. I'm making a lot of money, but this sucks. It's stressful and I'm going to get sick and get my kids sick and my mom sick and everything. And I was like, 'I'm not doing this anymore. I'm not going to send my son back to elementary school to start first grade in the middle of a pandemic.' I kept him home with me."
Hospitality, which includes restaurants, bars, hotels and tourism, has taken a large hit from the labor shortage. About 25% of former U.S. hospitality workers surveyed reported they would not consider returning to the hospitality business, while 58% of current employees said they are planning to quit their jobs by year's end, according to Joblist's third-quarter survey of 25,000 U.S. job seekers.  One-third reported being "dissatisfied" or "very dissatisfied" with their current jobs.
Arkansas restaurants and other hospitality businesses have struggled to stay fully staffed for months, said Montine McNulty, CEO of the Arkansas Hospitality Association. To compensate for the loss of workers, many owners have cut their business hours, McNulty said.
"People want to take care of the guests in the proper way," McNulty said. "So if they don't have enough employees to take care of them, they don't want them there. For example, they may limit the number of tables available because they want to make sure they have wait staff to take care of them, or limit hours if cooks are involved."
Owners who have the resources to do so also are attempting to entice workers by offering increased wages, benefits and job flexibility, McNulty said.
Jeff Allison, who bought Bordinos Restaurant and Wine Bar in February 2020, has found success attracting and retaining employees during the ongoing shortage by providing competitive wages and additional benefits, he said. After laying off all non-salaried employees in March and closing the Dickson Street restaurant for two months, Allison reopened Bordinos with limited capacity June 1, 2020.
Allison was able to bring back every laid-off employee who was willing to return; that was most of them, he said. For six weeks, he paid all employees $600 a week in addition to any tips they earned. That was equal to the unemployment benefits they had earned while the restaurant was closed. Allison used a Paycheck Protection Program loan from the federal government. He also permanently raised the starting wage of kitchen workers to $14 an hour, with the opportunity to earn $15 within two to three months of work.
"I definitely think that it has helped keep employees around," Aliison said. "Particularly on kitchen staff, we've definitely been able to retain more employees and find better quality employees because from what I'm told we're paying better than a lot of restaurants in the area."
Allison also has offered additional benefits to employees over the course of the pandemic, including a free family meal for every employee each day for the first year after reopening, and a free telehealth service provided to those who need mental healthcare services but cannot afford health insurance.
"You're kind of a family at a restaurant so you want to take care of everybody,"  Allison said. "So, you know, we did everything we could to offer as many benefits and wage increases as possible, even at a time when we were losing money, to try and keep people employed and make sure that their needs are met, and hoping that that goodwill will pay dividends."
For some who have left restaurant service jobs, even incentives, which can vary widely between businesses, are not enough to persuade them to return to the industry. Hanks, who thinks the labor shortage is more an issue of employers not paying high enough wages than people not wanting to work, had a good run in hospitality but plans to never return, she said.
"Now I work in physical therapy, and I feel a lot safer," Hanks said. "I'm a receptionist and you know, it's for the medical field, so the people I'm working with take it seriously. But that's the thing about the service industry is you work with all types and they're not all educated they're not you know, some of (those people) can be pretty ignorant (about COVID safety)."
This story is part of an ongoing series about the U.S. labor shortage and its effects on Arkansans. For more special coverage, click on "Where are the Workers?" under the "News" tab at the top of The Arkansas Traveler website.