When the COVID-19 pandemic hit, it offered an unexpected growth opportunity for one Northwest Arkansas resident — but pursuing it meant quitting her job. Another resident who lost his job at the beginning of the pandemic said he wants to return to the workforce, but he cannot find an employer willing to pay him what he knows he is worth — and what he needs to make a living.
As the historic U.S. labor shortage wears on, spurred by a phenomenon dubbed the "Great Resignation," pundits and business owners nationwide have claimed people "just don't want to work." But for many who lost or quit their jobs during the pandemic and have yet to rejoin the workforce, the story is more complicated than that.
U.S. nonfarm employment rose by 531,000 in October, according to the Bureau of Labor Statistics, but many employers continue struggling to fill openings. In September, the most recent month with available data, a record 4.4 million people quit their jobs — about 3% of the U.S. workforce, according to the BLS.
High rates of job dissatisfaction and desire to change careers are driving the wave of resignations. Of respondents to Joblist's third-quarter survey of more than 25,000 job seekers and employees, 22% had quit their previous job, while 73% of employed respondents were thinking about quitting.
Of those who had quit their previous jobs, 20% reported they did so to start a new career, 19% said they were unhappy with employer treatment during the pandemic, 17% said the pay or benefits were insufficient and 13% said the pandemic changed their priorities.
ReBecca Graham of Tontitown is one such person. After working in a women's correctional center for 8 1/2 years after high school and taking community college classes along the way, Graham quit her job in fall 2020. The stress of covering shifts to compensate for the prison's growing staff shortage became too much to bear, and the single mother rarely got to see her son, now 11.
Quitting allowed Graham to enroll full-time at the UofA, supported by financial aid, in spring 2021. She is now a junior studying journalism and political science. She also does freelance woodworking to make money and hopes to work in politics after graduation.
Leaving her job opened Graham's eyes to how toxic her former work environment had been and what she deserves as an employee, she said. She now has a list of non-negotiables for when she rejoins the workforce, including a fair salary, sufficient health insurance and an employer who understands that family, not work, is her life. Earlier this year, she turned down an offer for a resume-builder at a local news outlet because the employer offered $12.50 an hour for nearly full-time work with no benefits, and she would have had to start work at 3 a.m.
"I didn't do it," Graham said. "And so, my priorities have totally shifted. The value that I see in myself as an employee has definitely gone up."
As the owner of Brite Source Staffing and Recruiting in Fayetteville, Katie Webb knows what job seekers are looking for and what employers are offering to attract them. Higher wages or salaries, more flexibility in hours worked and benefits such as 401(k) plans and insurance are the most in-demand incentives, Webb said.
Many businesses Webb works with have introduced signing bonuses, four-day work weeks, greater job flexibility and other incentives, she said. Some workers even bounce from one employer to another to capitalize on bonuses or 50-cent wage differences, she said.
"They're demanding more and more money," Webb said. "And I don't feel like candidates are putting the work in to provide either a better product or a better work ethic, or they're demanding more but not wanting to give any more. They're demanding more for just showing up. It's sort of an entitlement thing now, and I think the companies are driving it, unfortunately. And whether or not they would admit that, I think that, you know, the bonuses, and the competing with one another to get just anybody in the door is causing it."
Despite intense competition driving wages up in some fields, that doesn't seem to be the reality in all employment areas, said Quentin Daniel, a Fayetteville photographer and graphic designer. Daniel was laid off in spring 2020, when the pandemic drove the talent agency where he was employed out of business.
Daniel received unemployment insurance benefits for two months before he could no longer get through to the Arkansas Division of Workforce Services when he tried to call for an extension, he said. He searched for full-time photography jobs, but no businesses were hiring.
No longer able to afford rent, Daniel moved into his parents' home and began taking freelance photography jobs when he could find them and volunteering at Free Geek Arkansas, an electronics recycling center, and the NWA Fab Lab, an open-access makers' space. Through his volunteer work, Daniel learned marketable skills including 3D printing and computer repair, both of which he now does on commission.
"I would love to find a place that can use my skills," Daniel said. "I think I'm pretty skilled. I have been doing photography and graphic design for 30 years. I graduated from the Art Institute of Pittsburgh in '91 with an associate's degree in commercial art. But then I moved back to Fayetteville, and it seems like no place in Fayetteville knows what a graphic designer is supposed to make. They've never offered but just a few dollars more than minimum wage."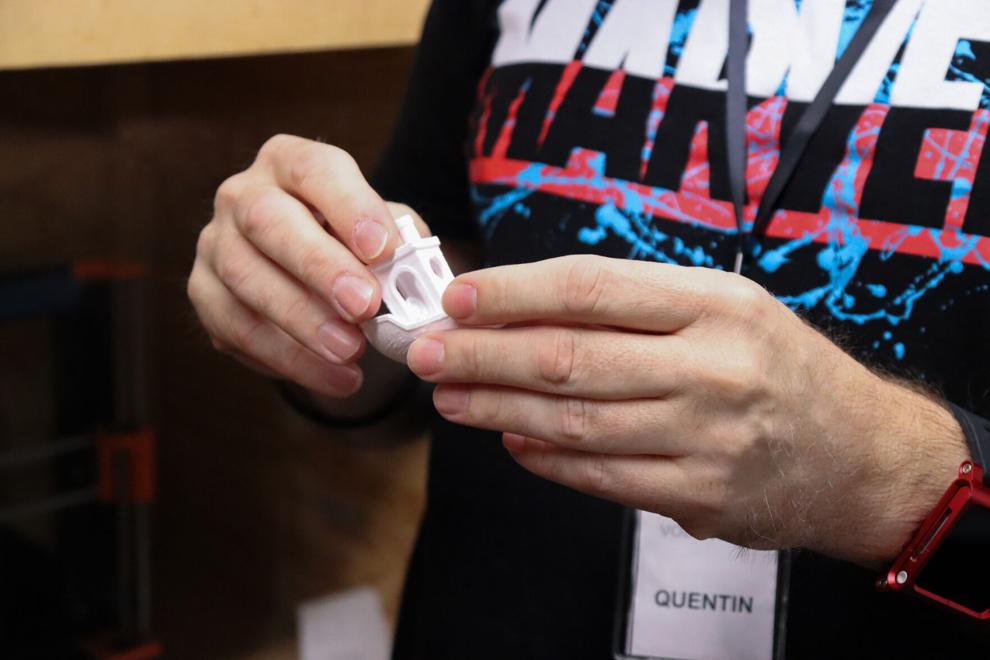 Daniel has applied for graphic design jobs at three businesses, but none have offered what he would need to afford an apartment and bills again, he said. Median gross rent in Washington County is $817, according to the U.S. Census Bureau.
"Yeah it's money, yeah it's a place that wants to hire you," Daniel said. "But it's a job that you're like, 'Well, I can't get out of my rut with what you're offering, so I'd rather just do side hustles and have more free time than work nine-to-five and make the same amount of money.'"
Graham does not think people wanting to avoid work and collect government aid is a main driver of the "Great Resignation," she said. Rather, she thinks many workers, like herself, are simply realizing their worth and refusing to settle.
"I think it's just this really negative work culture of 'the employee serves the employer to their own detriment,'" Graham said. "And so I think it's a combination of factors. People aren't making enough money to make it worth it to give up their lives to go to these jobs. I think it's the culture, I think it's the pay, I think it's the lack of benefits, and I think it's a lack of respect for people's lives outside of work."
This story is part of an ongoing series about the U.S. labor shortage and its effects on Arkansans. For more special coverage, select "Where are the Workers?" under the "News" tab at the top of The Arkansas Traveler website.