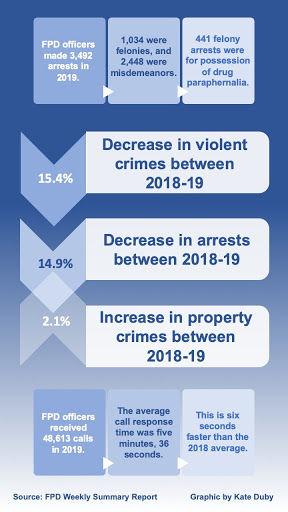 The Fayetteville Police Department recorded 424 violent crimes in 2019, a 15.4% decrease from 2018, according to the FPD weekly summary report updated Jan. 2.
Violent crime rates in Northwest Arkansas are consistently below the state and nation averages, according to the survey.
About 99% of NWA residents reported feeling fairly or very safe at home during the day in 2019, and 93% reported feeling safe in downtown areas, according to the 2019 Walton Family Foundation Quality of Life Survey.
Officers made 3,492 arrests in 2019 –– 1,034 for felonies and 2,448 for misdemeanors, according to the FPD report. There were 614 fewer arrests in 2018 than in 2019.
Of the 424 violent crimes reported in 2019, five were homicide, 65 were rape, 56 were robbery and 298 were aggravated assault.
There were 4,043 property crimes reported in 2019. Of these, 408 were for burglary, 3,216 were for larceny or theft, 416 were for vehicle theft and three were for arson. There were 3,958 property crimes reported in 2018.
Of the 1,034 felony arrests in 2019, 441 were for possession of drug paraphernalia, 213 were for possession of methamphetamines and 69 were for possession with purpose to deal.
There were 822 misdemeanor arrests for public intoxication, 494 for DUI and 452 for failure to appear.
Forty-two percent of Walton survey respondents view drug and alcohol use as a growing issue in their communities, according to the survey results.
Of the 10,864 other crimes in 2019 – 1,654 fewer than 2018 – 1,241 were for assault and battery, 223 were for forgery, 31 were for kidnapping, 183 were for liquor laws, 18 were for pornography or prostitution, 857 were for public intoxication and 1,051 were for vandalism.
FPD officers received 48,613 calls in 2019. The average response time was five minutes, 36 seconds, six seconds faster than the average response time in 2018. There were 1,590 more calls in 2019 than in 2018.
There were 12 fatal traffic accidents in 2019 compared to four in 2018.
Forty-three percent of NWA community members consider dangerous driving an important issue, according to the Walton survey.
Officers issued 20,833 citations in 2019. Of these, 1,681 were criminal, 308 were juvenile, 8,615 were traffic and 10,229 were warnings.