Editor's Note:
A previous version of this article posted on March 12, 2021, included information that raised privacy concerns for a source. It has since been removed, and the source is being contacted. The Traveler strives for accuracy and clarity in all matters.
Carol Fannin lives day to day. She spends the daylight hours gathering bottles of water and food or scavenging for hygiene products, blankets and clothing. On some days, she gets to shower in a friend's apartment and on others, she does what she can with the sink in a public restroom.
Then, as the sun starts setting, she heads back to her tent, nestled in the clearing of a sheltering grove of trees. This is where she lives.
The U.S. Department of Housing and Urban Development's 2019 Annual Homeless Assessment Report listed Arkansas in the top five states with the highest levels of homelessness, with 2,717 people homeless and 1,415 unsheltered. At the time of the Northwest Arkansas Continuum of Care's last point-in-time count, in January 2020, there were 369 people experiencing homelessness in NWA.
Amid the COVID-19 pandemic, many homeless individuals are battling unemployment, exacerbated mental health struggles and hunger, in addition to fighting to avoid the virus amid dangerous and unstable living conditions.
Fannin, 32, has been homeless for more than two years, she said.
"It started back in 2006," Fannin said. "I was in a car accident, and I injured my lower back really bad. (The doctors) told me I couldn't work anymore, and it was a downward spiral from there."
Since working was not an option for Fannin, she had relied on income from her husband's work as a market researcher. But he lost his job after the start of the pandemic in early 2020. In addition, he has been struggling with PTSD from his time in the military, and it has affected his ability to find and keep a steady job, Fannin said.
Kevin Fitzpatrick, a university professor of sociology and the director of the UA Community and Family Institute, has spent his career studying homelessness, including in Northwest Arkansas. Fitzpatrick has concluded that the homelessness crisis in NWA is fed and exacerbated by two simultaneous regional problems: food insecurity and a shortage of affordable housing. The pandemic has thrown the extent of these crises into sharp relief, he said.
"(The pandemic) really has put a spotlight on food insecurity. Just look at all the national news where they were showing people in cars lined up for miles to get food boxes, and people standing in line for hours to get a food bag," Fitzpatrick said. "And likewise, the other big story has been — look at rental assistance. It's become part of the federal conversation. It really hasn't been, and it needed to be."
In 2019, median gross rent in the Fayetteville/Springdale/Rogers metropolitan area was $833 per month, well above the $745 median for Arkansas as a whole, according to the U.S. Census Bureau's American Community Survey.
The pandemic has made it harder for Fannin to access food and supplies, and she has struggled to find places to shower and do laundry, she said.
During the summer, people could not even access area shelters during the day. The 7Hills Homeless Center was not allowing indoor visitors and instead provided portable showers in the parking lot March-December, to keep people as socially distanced as possible, said Jessica Andrews, CEO of 7Hills.
The organization has since partnered with St. James Missionary Baptist Church, where indoor showers and larger resting spaces are available. The 7Hills Day Center will continue operating out of the church until the end of March, when the weather warms, Andrews said.
Andrews said the center staff assists about 515 individuals on a monthly basis, and their temporary location, which allows 30 people indoors at one time, has yet to reach full capacity in a given day.
However, safety is still a key focus, Andrews said. Masks are always required indoors, and if a visitor does not have one, a mask is provided.
"Any time someone visits, we do a quick COVID screening, similar to what you would get at a doctor's office, to see if there has been contact or symptoms or anything like that," Andrews said.
Since the start of the pandemic, 7Hills has had one staff member and one volunteer test positive for COVID-19, Andrew said. The shelter staff followed Arkansas Department of Health and CDC guidelines for shutting down and reopening the shelter.
"Anytime that a client exhibits symptoms or says that they have been in contact with someone," Andrews said, "we actually call the community EMT to come to the Day Center and administer a test on sight so that the person can get their results."
The fear of COVID-19 spread has prevented some homeless community members from going to shelters at all.
Katherine Tracy, 51, has been homeless since December 2020 and has been sleeping in her car along with her 25-year-old son.
"I am trying to stay away from the shelters," Tracy said. "I have blood pressure problems. I have had a heart attack in the past. I've got some of those issues that would make it worse on me."
Tracy's sister caught COVID-19 in early January 2021, worsening Tracy's fears of catching the disease, she said. Her sister was dependent on a ventilator connected to a tracheostomy tube in her neck until Monday, when she was finally able to come off the breathing device.
"It paralyzed her whole body, shut her heart and lungs down....she is still paralyzed from the waist down," Tracy said. "That scares me to death. If I were to get COVID, could I suffer those same (symptoms)? As far as I'm concerned, staying in a shelter is not an option. That is a death sentence for me."
Tracy said it has been difficult because the resources provided by 7Hills and the Salvation Army require individuals to meet in person.
"There are just too many people," Tracy said. "It is a fight to shower or clean up in some way. It is survival just for basic hygiene and a safe place to sleep."
Tracy receives supplemental security income — also known as disability benefits — due to severe depression. Her son lost his job in June 2020 and has been working temporary jobs he finds through Craigslist to help sustain them, Tracy said.
"But it is so hard when you can't shower on a daily basis to go to work," Tracy said. "You have to sleep in your car. You can't get a good night's sleep, so you just get more exhausted and worn out."
Tracy and her son were evicted Dec. 7, for failure to pay rent, she said. In September 2020, The Centers for Disease Control and Prevention issued a temporary ban on evictions for nonpayment of rent until March 31. However, the burden is on tenants to complete and sign a form certifying that they meet the moratorium's qualifications and have sought and failed to obtain rental assistance or other alternative arrangements.
"When it came time to pay rent again, we had called a church asking for assistance, and when they called to verify with the landlord, he said 'no, they need to pay their rent,' so he turned it down," Tracy said.
Tracy is far from the only person who has struggled to pay rent during the pandemic.
Joey Jackson, public relations and volunteer coordinator for the Salvation Army of NWA, said the organization's staff have seen a rise in requests for social services since the pandemic began. In particular, there has been an increased demand for housing and utility support, including water bills and rental assistance, Jackson said.
In 2020, the Salvation Army of NWA assisted 25,013 people with social services, a sharp increase from the 2,680 people assisted in 2019, Jackson said. In the first three months of 2020, the staff served 1,326 people in the social services department, then in April alone, they served 2,616.
One of the biggest barriers to serving and protecting homeless individuals in NWA is that the region does not have a comprehensive emergency shelter system, Fitzpatrick said. The only consistently operating overnight homeless shelters in NWA are the Salvation Army's two emergency shelters in Bentonville and Fayetteville.
Jackson said the biggest adjustment for the shelters' workers has been determining how to make room for as many clients as possible while still following COVID-19 safety guidelines.
"We have had to be a lot more careful with how many people we put in our shelters and how we set up our overflow shelters, because we want to make sure that they are six feet apart and wearing masks," Jackson said.
Before COVID-19, there was room for 70 people in the Fayetteville overflow shelter, but now, the organization averages 30-40 each night between the overflow and main shelter, Jackson said. The organization is using an overflow shelter to create more space and to maintain social distancing.
For Tracy, COVID-19 has not only affected her living conditions, but also her mental health.
"Depression out on the streets is just rough," Tracy said. "I've fought with suicide at one point in my life, and I have to remind myself every day that this is going to get better, things will work out in time and to not give up hope."
Tracy meets with a counselor, whose services are covered by Medicaid, on her phone via Zoom to help with her mental health concerns. Her phone is her only connection to the outside world, Tracy said.
As just one person in need amid an influx of people needing help with rent and utilities, the hardest thing for Tracy is dealing with rejection when asking for help from local social service organizations, she said.
"The funds are just not there because there are too many families that need help. They can only give so much before they have to start turning people away," Tracy said. "The rejection is just so discouraging, and it hinders that hope that things will get better. It's very challenging on someone's mental health."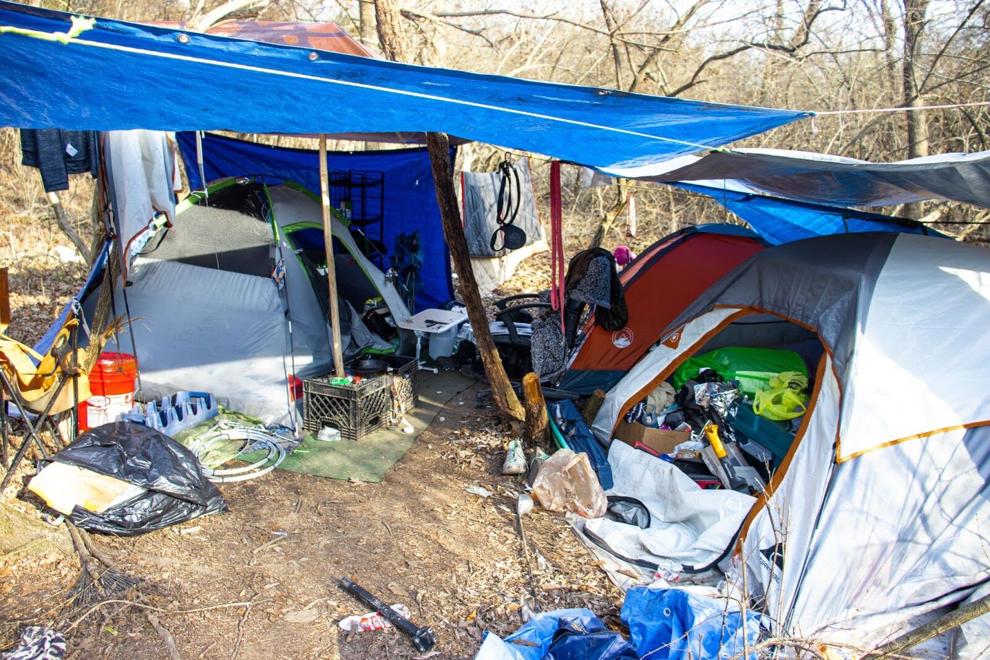 Mental health has also been an ongoing battle for both Fannin and her husband. Fannin takes multiple medications for depression and anxiety, and her husband makes frequent visits to the VA Medical Center for his PTSD, Fannin said.
"It's been a rough road for my husband and I," Fannin said. "Mostly, we are just surviving."
Fannin said being homeless during the pandemic has felt like a "never-ending battle," but she still does everything she can to aid others facing similar struggles. With the help of the shelters and churches, she distributes food, tents, blankets, clothing, and other necessities to homeless people in the community.
"Other people come to us for guidance and help. They look up to us, so to speak," Fannin said. "So, we aren't just doing it for us, we are doing it for everyone that needs help."