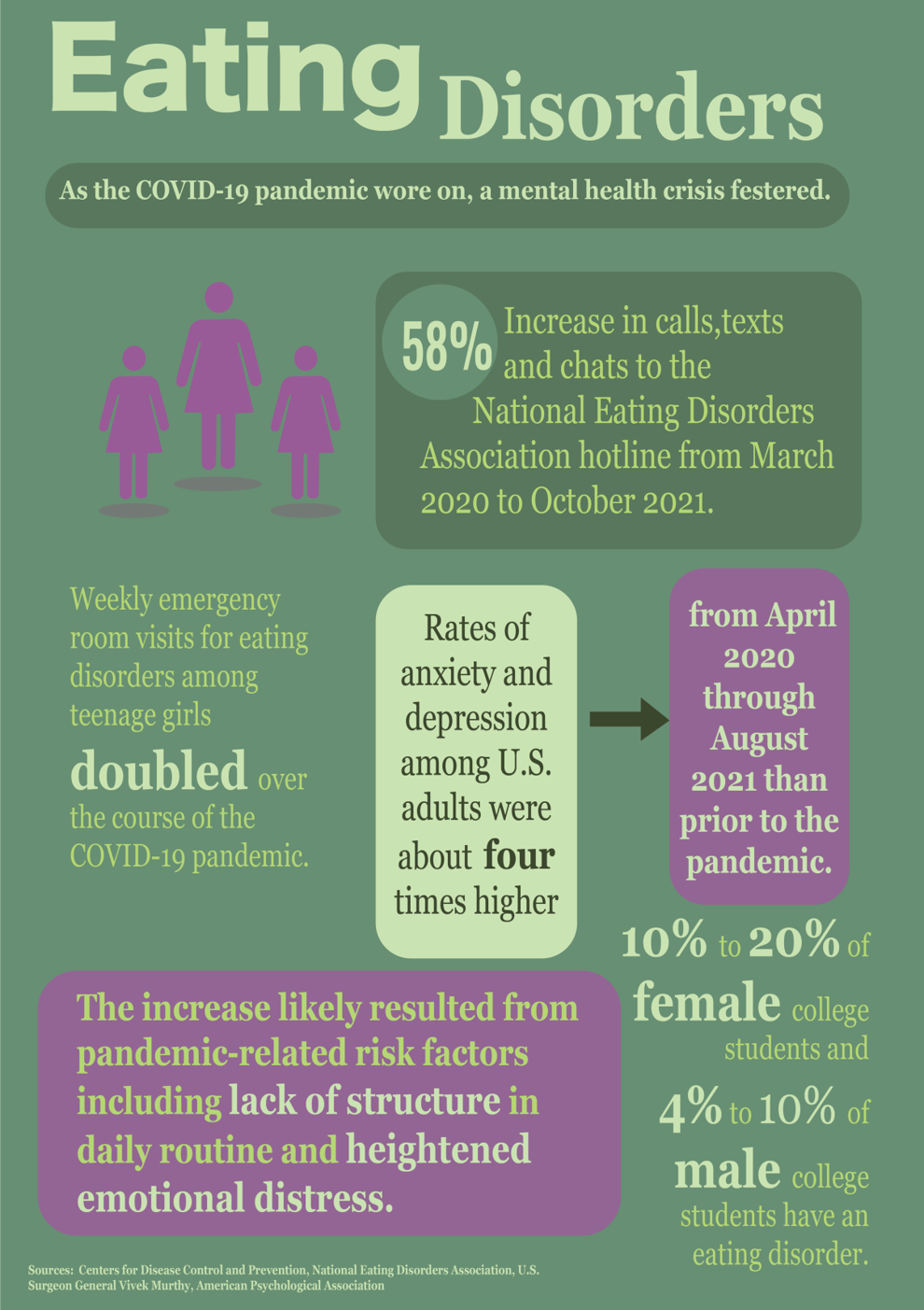 Amid a mental health crisis exacerbated by the COVID-19 pandemic, many young Americans, including students, have found themselves struggling with disordered eating habits stemming from isolation and disruption of daily life.
Weekly emergency room visits for eating disorders among teenage girls doubled over the course of the COVID-19 pandemic, according to new data published by the Centers for Disease Control and Prevention. CDC analysts theorize that the increase resulted from pandemic-related risk factors including lack of structure in daily routine and heightened emotional distress. The National Eating Disorders Association recorded a 58% increase in calls, texts and chats to its hotline from March 2020 to October 2021.
"It's not surprising to me at all that the pandemic has worsened eating disorders," said Ashley O'Roark, a dietitian for the RiverStone Wellness Center in Little Rock. "We're seeing a lot of additional stress on kids, quarantining and remote education lead to disrupting routines. Many thrive on routine, so this has led to increased anxiety and depression as well."
Eating disorders are mental and physical illnesses that can affect people of all genders, ages, races, religions, ethnicities, sexual orientations and weights, according to NEDA. Common types include anorexia nervosa, bulimia nervosa and binge-eating disorder.
The American Academy of Pediatrics declared a national mental health emergency among children and teens in October 2021 after a decade of building concern. Additionally, U.S. Surgeon General Vivek Murthy released a statement in December detailing a youth mental health crisis that began before the pandemic, noting a 40% increase in high school students who reported persistent feelings of sadness between 2009 and 2019. The pandemic has further exacerbated these struggles.
Keena Reddin, founder of the Center for Eating Disorders and Behavioral Wellness in Jonesboro, noticed an influx of phone calls from and appointments for people who began engaging in disordered eating during the pandemic, she said.
"In 2020, a lot of schools did virtual learning," Reddin said. "It allowed students to have more ability to get in their head and be by themselves, and we saw eating disorders go up as a consequence."
Between 10-20% of female college students and 4-10% of male college students have an eating disorder, according to NEDA.
Toby Klein, a graduate student in eating disorder recovery, experienced a relapse during the pandemic and thinks the UofA can do more to support students struggling with eating disorders, she said.
At the height of the pandemic in 2020, many eating disorder treatment centers shut down, implemented visitor restrictions or were not accepting new patients. Klein feared if she reached out for help she would not be able to receive it, she said.
"When I'm by myself and no one is physically seeing me, how do I communicate with my advisor that I'm really struggling?" Klein said. "I might not have the words for it and she only sees me from the shoulders up."
Klein was able to take time off school to cope with her relapse, but she thinks there should be more plentiful resources readily available to students, so that it does not take a relapse for their struggles to finally be acknowledged, she said.
"Oftentimes people with anorexia don't realize they're struggling until they're at the point where they need intervention," Klein said. "It makes it hard to catch the warning signs and I found it difficult to communicate with faculty about what I need because I don't always know."
Eating disorders commonly occur alongside anxiety, and for those who have it, a concurrent eating disorder can worsen symptoms and hinder recovery, according to the Anxiety and Depression Association of America. Rates of anxiety and depression among U.S. adults were about four times higher between April 2020 and August 2021 than they were prior to the pandemic, according to the American Psychological Association.
Lilli Martin, a junior, experienced increased anxiety during the pandemic, which led to disordered eating habits, she said.
"Before the pandemic I was fine — I had anxiety and depression, but food wasn't a problem," Martin said. "But when we came back to campus my anxiety went up, and then because of that I just stopped eating some days."
Reddin thinks stressors including increased workloads and the cultural phenomenon of deriding those who gain the "freshman 15" compound college students' risk of developing an eating disorder, she said.
Many misconceptions about eating disorders exist, such as the idea someone must look a certain way to have one. It is crucial not to overlook someone because they do not resemble society's expectation of someone with an eating disorder, O'Roark said.
"One of the most common misconceptions about eating disorders is that it only affects teen girls, but about 10% of diagnoses are male," O'Roark said. "It's not just thin people that have eating disorders, they come in all sizes, ages, and races."
People's eating disorders commonly go unrecognized unless they are visibly ill, so there needs to be a larger societal conversation about helping struggling individuals before they wind up in grave danger, Klein said.
"We're doing a great job as a society and campus community of talking about self-care and saying all the right things," Klein said. "But when it comes down to it, I'm being told my work isn't good. How can my work be good if I'm actively trying to stay out of the hospital?"