With splatters of red paint calling attention to their otherwise all-white uniforms, members of the national nonprofit organization Bloodstained Men took to the Arkansas Union mall Friday morning with signs that read, "Vote No on Circumcision" and "Nobody Wants Less Penis."
Bloodstained Men members aim to educate people about the harms of infant circumcision, said spokesperson Harry Guiremand, 65, from Kapaa, Hawaii. This was their first visit to the UofA and only one stop on their 17-day tour of college campuses across the South, he said.
"We wanted to reach people before they have kids and while their minds are still open and able to absorb new ideas," Guiremand said. "We find that sometimes older people can't accept new ideas."
Some students, including Dakota Scott, a freshman, were bothered by the shouts of the protesters. 
Scott was walking with a friend when a female protester yelled at them about their genitalia, he said. This made Scott uncomfortable, and he reported the incident to the UA Police Department, he said.
"I just felt that it was a problem that they were yelling at students, specifically because the subject matter is such an explicit thing and such a graphic thing," Scott said.
The officer who went to the Union did not observe any illegal activity and reported that the protesters were acting within their guidelines, UAPD Capt. Gary Crain said. The incident would have been categorized as a misdemeanor, which UAPD cannot do anything about unless an officer sees it happen, Crain said.
UA officials encourage non-commercial forms of expression consistent with those outlined in the First Amendment, including peaceful assemblies and speeches, that comply with university policies, according to the UA Facilities Management policy for the use of UA facilities and outdoor space.
Facilities Management officials were not available for immediate comment.
Scott thought the protesters' uniforms and message were off-putting and provided more shock value than anything else, he said.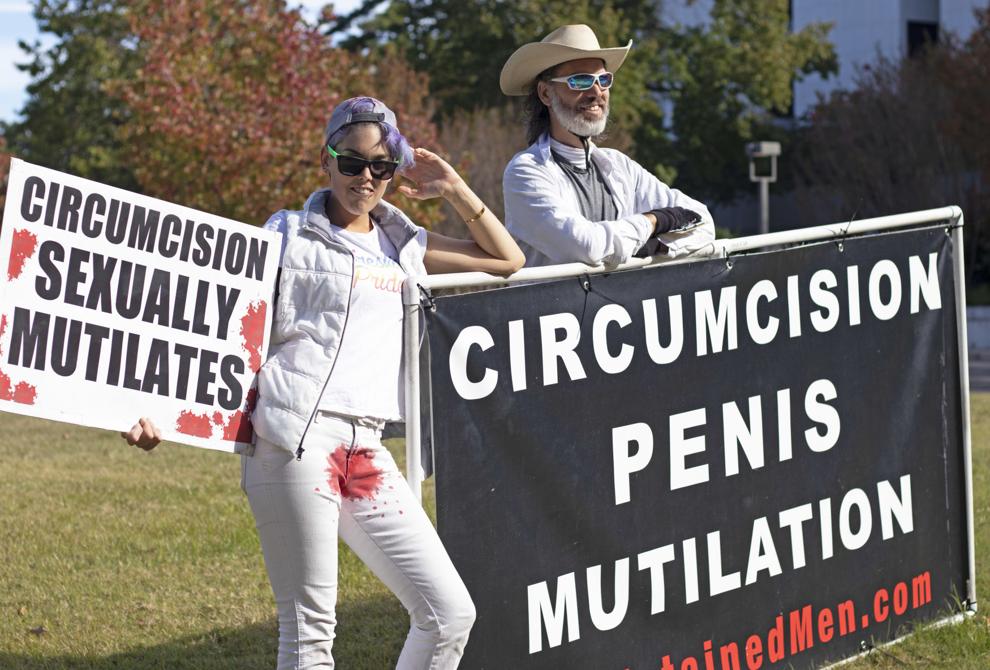 "(The uniform) is supposed to get your attention," Guiremand said. "A lot of us have worked in this issue for a long time, and without having an attention-getting device like our outfits, we don't get traction with people."
David Atkinson, 31, from Boston, Massachusetts, protests with the organization to spread awareness about the functions of the male foreskin, which he thinks is a healthy and valuable part of the body, he said. Atkinson thinks no one should tamper with the genitals of healthy children, he said.
"It should be your own choice how much of your genitals you get to keep," Atkinson said.
According to the American College of Obstetricians and Gynecologists, circumcision of newborns reduces the growth of bacteria under the foreskin that can cause urinary tract infections and sexually transmitted infections. Complications from the procedure are rare but can include bleeding, infection or scarring, according to the ACOG.