Ariel Rogers, a senior, flew to Florida last week to spend time with her family, not knowing that her decision would cause her to miss her last day of in-person classes at the UofA.
"I was like "You know what, I haven't missed this year, I'm just going to go ahead and skip. It will be fine. I can make it up,'" Rogers said. "And then I got the email."
'The Email': In-Person Classes Suspended, Students Respond
UA Chancellor Joseph Steinmetz sent an email Thursday afternoon informing students that in-person classes were canceled and the remainder of the semester would be taught online.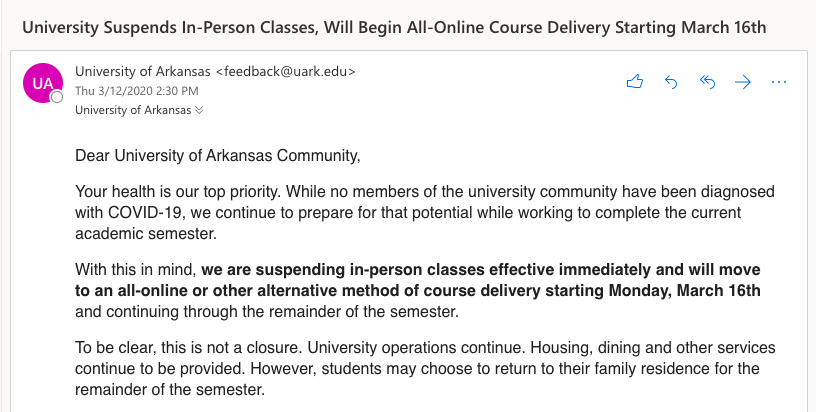 Rogers was enjoying dinner with her family in Florida when she received the email saying classes were being moved online, she said.
"I just started bawling," Rogers said.
Mackenzie Shirley, a senior, had just gotten back to her apartment when she received the email, she said.
"I had just gotten home from my last class," Shirley said. "I didn't even know it was my last class of my college career, so I didn't get to enjoy any of that or anything. I was just at home and called my mom and read the email with her."
Maria Calderon, a senior, had assumed that the move to online was coming, but she was still devastated when it came, she said.
"I got the email, and it just really didn't feel real. That I had just gone to my last undergraduate class," Calderon said. "I think that's a sentiment that's shared by most seniors."
'We're missing out on our last everything': Wave of Cancellations Hits Seniors Hard
When Rogers received the email, she thought of her grandparents – how this could mean there might not be a graduation ceremony, or if there is one, it might not be safe for them to attend, she said.
"That's really heartbreaking for me because none of my grandparents went to college, so it's a big deal to see me go up and graduate," Rogers said.
The UA administration plans to make final decisions about commencement ceremonies by mid-April, said Mark Rushing, assistant vice chancellor of University Relations, in a press conference Thursday.
"I just don't know how you can make up a lost event like that," Rogers said. "You can't."
Rogers was excited at the idea of online classes before realizing it would be for the rest of the semester and that some students, including her friends, would be returning home to take them, she said.
She is distressed about missing out on events for her sorority, Phi Mu, like the senior formal and alumnae ceremony, Rogers said.
Rogers's internship at the Jones Center in Springdale has also been affected, because the fitness classes that she taught have been canceled, she said.
Without the hands-on experience of her internship, Rogers does not know what she has left to learn online, she said.
"It's just like everything is crumbling," Rogers said.
Shirley is heartbroken over her college career ending so abruptly, she said.
She thought that school might be out for a month or so, but did not expect that the university would go online for the remainder of the semester, she said.
She is upset that she will be missing out on her senior formal and other senior events in her sorority as well, Shirley said.
Shirley is disappointed she will miss out on spending time with her friends and attending her sorority's senior events, she said.
Other spring semester staples, like sporting events, have been postponed as well. The Southeastern Conference has suspended all regular-season games and championship events on SEC campuses until March 30.
"It was super heartbreaking, honestly," Shirley said. "Just because I totally thought that we had two more months of college, and I was so excited. Now we're missing out on our last everything."
Calderon said she feels like she's been in a sort of limbo since finding out about the switch.
"I think it's also really hard for a lot of people because April is a month in which you get to kind of just wrap everything up and do all of your lasts," Calderon said.
The Springtime of Youth music festival, formals and Greek Life alumni events are all end-of-year UA traditions that seniors will have to miss out on, Calderon said.
The Headliners Concert Committee announced Friday that Springtime of Youth has been postponed indefinitely because of health concerns.
'It's like they moved the finish line behind me': Students Adjust to Changes
Roger enjoys online classes, but she thinks the transition will be a struggle, especially as a senior with frequent presentations required for her classes, she said.
Missing out on time with her friends at the end of her college experience is also weighing on Rogers since the transition to online classes, she said.
"It's like they moved the finish line behind me and just didn't even bother to tell me," Rogers said.
Shirley and her friends spent the night with each other after getting the email, enjoying one of their final evenings together in Fayetteville, Shirley said.
"It's the last of the last and we're missing it and it just sucks," Shirley said.
Calderon thinks that missing out on end-of-year events is not a severe blow compared to the challenges some are facing because of the coronavirus, but she is still disappointed by the loss.
"Right now it just sucks, and I haven't met a single person who doesn't share that same feeling," Calderon said.
Calderon, who knows that life never goes exactly as planned, is trying to stay positive and make the best of a bad situation, she said.
"It's just really a matter of soaking up what it is that we have left," Calderon said. "I've never loved the UofA more, and been so proud of my time here and just been so thankful for everyone that I've met."