While countless businesses across the country are desperate to operate at full capacity, one Fayetteville golf course is overrun with customers.
"We turn more people away every day than we ever have, because we simply don't have the resources," said Taylor Johnson, the general manager of Stonebridge Meadows Golf Club. "We don't have enough carts, we don't have enough space in our pro shop. How do you anticipate you'll grow that big that fast, and then also need an extra six feet in between each person?"
The hike in patronage at Stonebridge Meadows provides a snapshot of the national phenomenon that is the COVID-19 golf craze. Since a sharp drop-off in rounds played nationwide last April, business has been booming.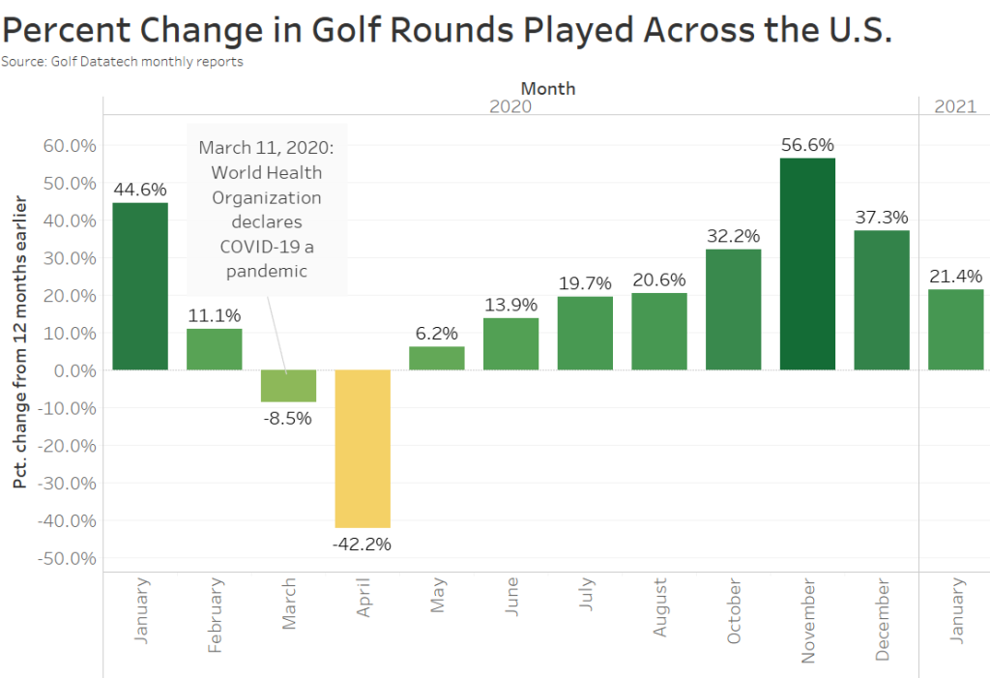 Only two months in 2020 hosted fewer rounds of golf than they did in 2019, according to monthly reports from Golf Datatech, compiled by the National Golf Foundation. The World Health Organization officially declared COVID-19 a pandemic March 11, and golf courses were some of the public places that closed in the early stages.
But as the year ended, 2020 saw the largest yearly increase in golf rounds played since 1997, according to the NGF. That year, 21-year-old Tiger Woods burst onto the scene with a record-low 18-under-par performance at The Masters Tournament.
Last year, however, came with a different set of circumstances. Golf served as an escape from an unknown, as well as a sense of normalcy, Johnson said.
But what he saw was far from normal. Johnson said Stonebridge Meadows began to see an uptick in visits at the end of March. Overall rounds in 2020 increased by a whopping 5,000, and the past few months have only been slower because of the weather, he said.
On March 4, golfers played 143 rounds at Stonebridge Meadows.
"That's a lot more than we've done in the past," Johnson said. "You're looking at, at most on a Thursday, maybe 80-90 rounds, so substantially more people even now, a year later."
Tristan Hill, a University of Arkansas junior and amateur golfer, was pleased to see so much enthusiasm for his years-long hobby, he said.
"It was actually pretty difficult to find time to play because the courses were so busy," Hill said.
Both Johnson and Hill attributed the increasing popularity of the game to the built-in social distancing.
"I definitely started playing more, and I think a lot of people picked up the sport because it was one of the only things to do," Hill said. "Social distancing is really easy on a golf course, especially if you're playing by yourself or with just one other person, you're not really near anybody very much."
Malachi Jones, a sophomore, picked up golf clubs for the first time in 10 years last summer. He hated golf, but because it was something he could do safely with his friends he decided to give it another try, he said.
"I got hooked probably within the first day of playing it, even though I was absolutely terrible," Jones said. "All it takes is one good shot, that one great putt where you're like 'Okay, I'm Tiger Woods now.' It was one time and then every weekend it was like 'Okay, we have to find time to play golf.'"
As far as new golfers go, Johnson said memberships at Stonebridge Meadows jumped considerably from 2019 to 2020. Other year-to-year changes are typically stagnant, he said.
"There were just more new faces, more new accounts created," Johnson said. "Memberships grew probably another seven, eight percent as well."
As bright as 2020 was for golf, it was far from business as usual. Stonebridge Meadows officials had to cancel tournaments and limit capacity in the clubhouse, both of which put a dent in profits, Johnson said.
"We can't have people in our restaurant, in our bar area to drink and hang out and spend more time here," Johnson said. "People aren't really willing to come in and shop your merchandise when there's restrictions."
Hill said that many of the local courses he played, including Stonebridge Meadows, eliminated water coolers, ball washers and bunker rakes to eliminate high-touch surfaces. Some courses also raised the cups to prevent golfers from reaching into the hole to retrieve balls, asked that flagsticks not be touched and rented one cart per person to maintain proper social distancing.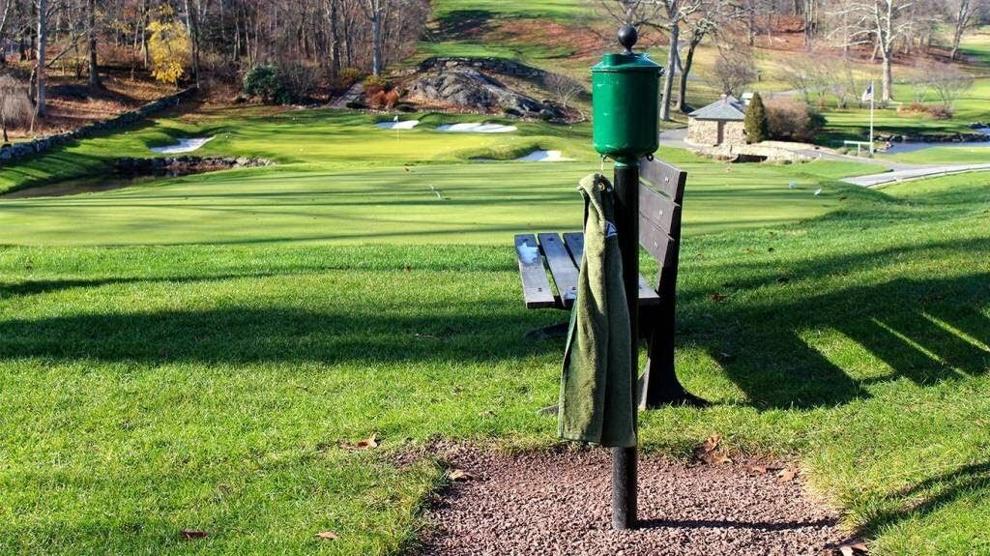 By the time the 2021 golf season reaches its peak this summer, the pandemic will be in a much different place than it was the year before. President Joe Biden recently announced that the nation will have enough vaccine supply for every adult by the end of May. A more normal summer might discourage new golfers from returning to the links, Hill said.
"I think it might fall off just because people will be able to return to the things they were normally doing before they picked up golf," Hill said. "I hope that's not the case, but that's my prediction."
Jones said he hopes to play as often as he can no matter what the upcoming summer looks like.
"You can take it seriously or you can just goof around and have a good time," Jones said. "I definitely want to play more."
Johnson remains cautiously optimistic. While 2020 numbers seem unbeatable, he said Stonebridge Meadows is prepared for another busy year.
"I would anticipate this year being an average of 2019 and 2020," Johnson said. "To think we could get 2020 again, it would be tough to do. I mean we're obviously striving to do that, but it would be extremely hard."
Even if 2021 isn't quite as busy as the year before, there is a lot to look forward to, Johnson said.
"We're just encouraged by how many people tried golf for the first time, we're encouraged by the new faces," Johnson said. "We're also going to start a junior camp so hopefully we'll get some younger generations into the game so that we can sustain this boom in golf. I think golf nationwide has had a huge movement and it's got this momentum behind it and hopefully it sticks around."