A former world champion, Olympic gold medalist and sexual abuse victim advocate has entered uncharted territory at the UofA this year as the first Olympian to coach an NCAA gymnastics team.
Jordyn Wieber, 24, was named head coach of Razorback Gymnastics on April 24 following the retirement of former head coach and program founder Mark Cook. She chose to apply for the UA opening because she wanted the opportunity to grow a program of her own, she said. While Wieber thinks taking over from the program's founder at age 24 is a daunting task, she is prepared for the challenge, she said.
"I definitely feel the eyes on me," Wieber said. "A lot of people saying, 'Can she do it? She's only 24,' and I usually say, 'I don't feel like I'm 24,'" Wieber said. "I feel like I'm much older than that, just because of everything I've been through in my gymnastics career and in my life."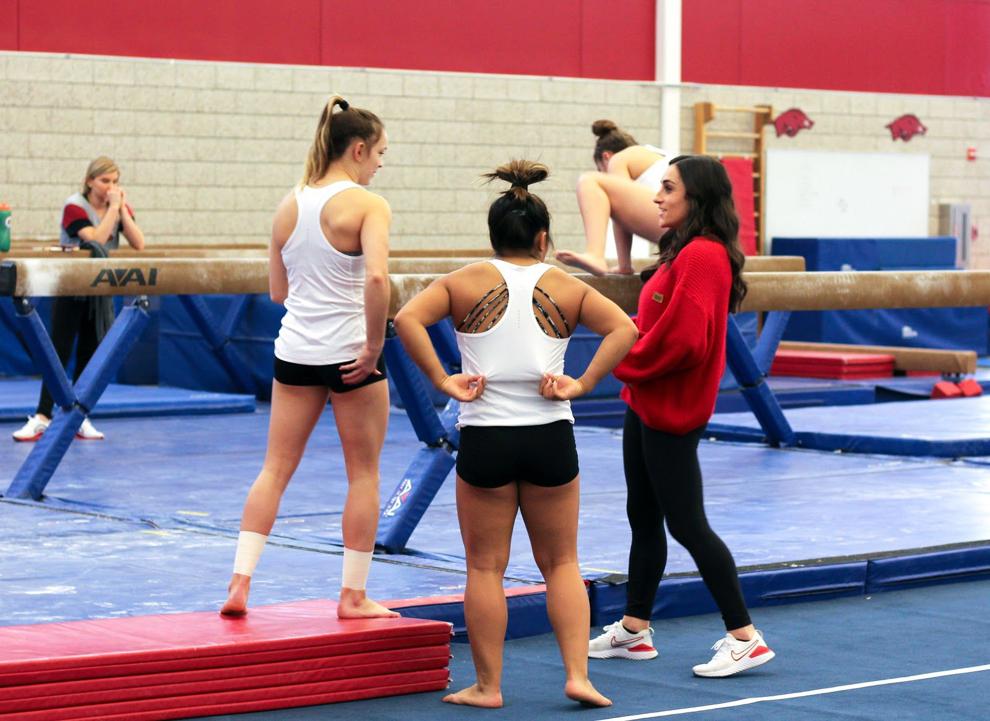 Wieber came to the UofA this summer after spending three years as a volunteer assistant coach at UCLA. Wieber said learning from now-retired UCLA head coach Valerie Kondos Field made her realize for the first time that she wanted to spend her career coaching. 
The theme Wieber developed for the 2020 season, RISE (Ready, Ignite, Sizzle, Explode), breaks the months of training and competition into segments, and athletes set personal and team goals for each portion of the year. She chose the theme because when she arrived at the UofA, she saw her athletes as "a team on the rise," she said.
Bailey Lovett, a freshman gymnast, said she appreciates the way RISE has brought the team together. Lovett was excited to learn Wieber would be head coach, she said. Learning from Wieber and assistant coaches Chris Brooks and Catelyn Orel has been unlike any of Lovett's previous experiences with coaches, she said.
"There's more young energy in the gym now, so it's more like she's trying to motivate us and really can relate to us," Lovett said. "They're helping me grow as a person in the gym, which is starting to go outside the gym as well."
Wieber is also bringing her elite competitive history and accompanying life experiences to the job. Wieber, who was named to the U.S. national team at age 11, won the 2011 World Artistic Gymnastics Championships in Tokyo. In 2012, she competed in the Summer Olympics in London as part of the Team USA delegation nicknamed the "Fierce Five," who won gold in the team competition.
Sarah Shaffer, a junior gymnast, thinks Wieber and her team have brought positive change because they have taken the time to learn about their athletes' lives in and out of the gym, she said.
"I think they've both done a good job caring about our practices, but also caring about what's going on outside of the gym," Shaffer said. "It's easy to want to work hard for them."
While she achieved many victories during her career, Wieber also experienced something she said has been a systemic problem in elite sports. Starting at age 14, Wieber was sexually abused by Larry Nassar, former U.S. Gymnastics and Michigan State University doctor and convicted serial child molester.
Wieber came forward with her story during Nassar's seven-day sentencing hearing in January 2018, giving one of 156 victim impact statements. In her testimony, she criticized USA Gymnastics leadership for enabling the abuse by creating a culture of isolation, fear and poor treatment of athletes.
"When you really look back, we were kids, and the adults around us were supposed to protect us," Wieber said. "Many people turned a blind eye. Many powerful people protected other powerful people."
Wieber continues to advocate for systemic changes in elite sports to protect athletes, such as mandated supervision during training, treatments and overseas travel. 
As the 2020 season nears, Wieber and her athletes are eager for fans to fill the stands, especially the student section, at home meets, she said. 
The gymnastics program staff are making changes for 2020 meets, including moving the performance floor closer to the student section, Wieber said.
The first home gymnastics meet of the 2020 season will be 7 p.m. Jan. 17 in Barnhill Arena. A free "Meet the Gymbacks" event, both an intrasquad meet and pep rally, will be 2 p.m. Dec. 8.