The No. 25 Arkansas Razorbacks were firing on all cylinders Friday afternoon, scoring 24 second-half points and racking up 425 yards to defeat the Missouri Tigers 34-17 at Donald W. Reynolds Razorback Stadium.
The victory earned the Hogs the Battle Line Trophy, their third rivalry trophy this season. Arkansas head coach Sam Pittman struggled to put the significance of the Razorbacks winning all three into words.
"I don't know if I can," Pittman said. "We don't have a guy on our team that had any of them. Ever. Not one...To have those three trophies in there is big."
Arkansas junior wide receiver Treylon Burks became the fourth Razorback to break the 1000-yard mark in a season, and the first Hog to record six or more 100-yard games in a single season.
"I mean he's just a baller, and the guy's just a freak of nature, that's the bottom line," senior linebacker Hayden Henry said. "(He) goes up and makes contested catches. One-on-one balls, he's going to win. To see his progression, coming in as a freshman, to see where he's at now, I mean he's just constantly getting better. He gets better and better every single day, every single week he's better. He's a huge spark for our offense. You get him the ball, usually good things happen."
Arkansas was successful on its opening drive, with a 49-yard run from redshirt sophomore quarterback KJ Jefferson setting the Hogs up with a first down at the Missouri 11-yard line. After going three-and-out, the Razorbacks settled for a 36-yard field goal from freshman Cameron Little.
Little's kick was the lone score in the first 15 minutes, and Arkansas led 3-0 at the end of the first quarter.
After a run of three-and-outs, Arkansas finally found its offensive footing with an eight-play, 76-yard scoring drive. Freshman running back Raheim "Rocket" Sanders capped off the drive with a 1-yard touchdown run to give the Hogs a 10-3 lead halfway through the second quarter.
Both defenses were effective the remainder of the half, and Arkansas went into the locker room with a 10-6 advantage.
"We go in the locker room no matter the score and there's not a guy in the locker room that doesn't think we're going to win," senior linebacker Bumper Pool said after the game.
The Hogs came out of halftime on fire, scoring on two of their first three drives to quickly push the lead to 24-6 with just over nine minutes left in the third quarter.
"We knew what they were doing, they had a nice game plan," Pittman said of Missouri's defense. "But at some point you've got to go attack that and not sit there and say, 'We're afraid.' In other words, we are a running team, we want to have success running, but if someone is going to take that away from you, you have to say, 'Okay, we're going to burn you deep.'"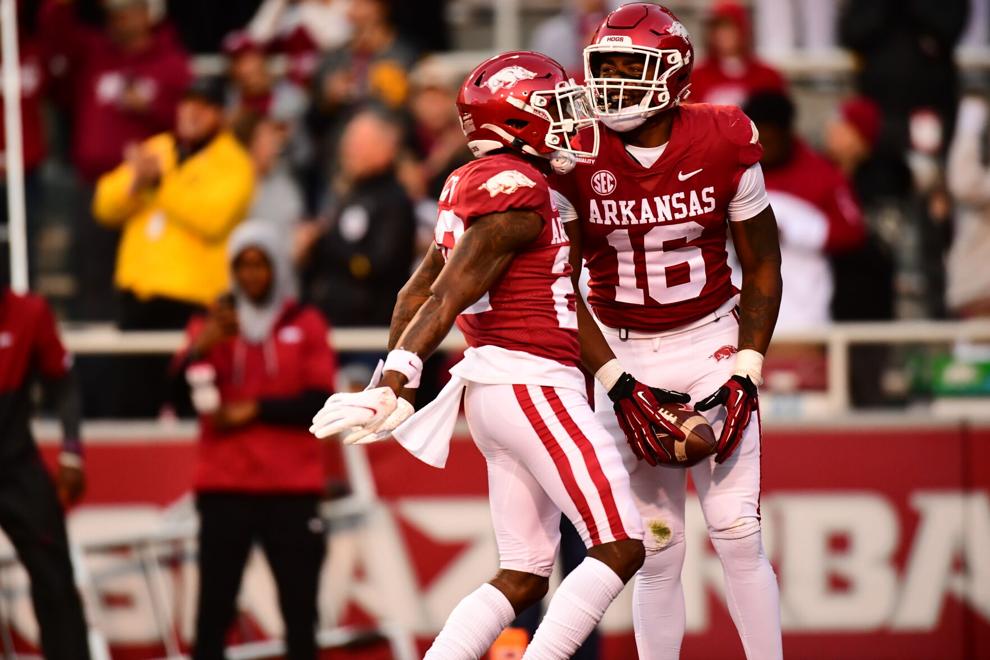 Missouri cut into the deficit with a 41-yard field goal from Harrison Mevis, and Arkansas led Missouri 24-9 at the end of the third quarter. The Razorbacks poured it on in the fourth quarter, scoring on two consecutive drives to push the lead to 34-9 with 9:52 to play in the game.
After allowing Missouri a late touchdown that cut the lead to 34-17, the Razorbacks ran the clock out on their eighth win of the season, and their 11th of Pittman's tenure.
With the victory, the Hogs secured their eighth win of the regular season for the first time since 2011. Arkansas now awaits a bowl bid for its first postseason action since 2016.