The Arkansas Razorback women's basketball team (4-0) defeated the Stony Brook Seawolves (3-1) by a score of 88-58 on Sunday afternoon.
Arkansas junior guard Amber Ramirez had a dominant performance. She scored 26 points in Arkansas' win and was 14-for-20 (70%) shooting. Ramirez also contributed with two assists, two rebounds and had a plus-minus of 21.
Ramirez's six three-pointers also matched a Razorback record for most three-pointers made in a regular season game.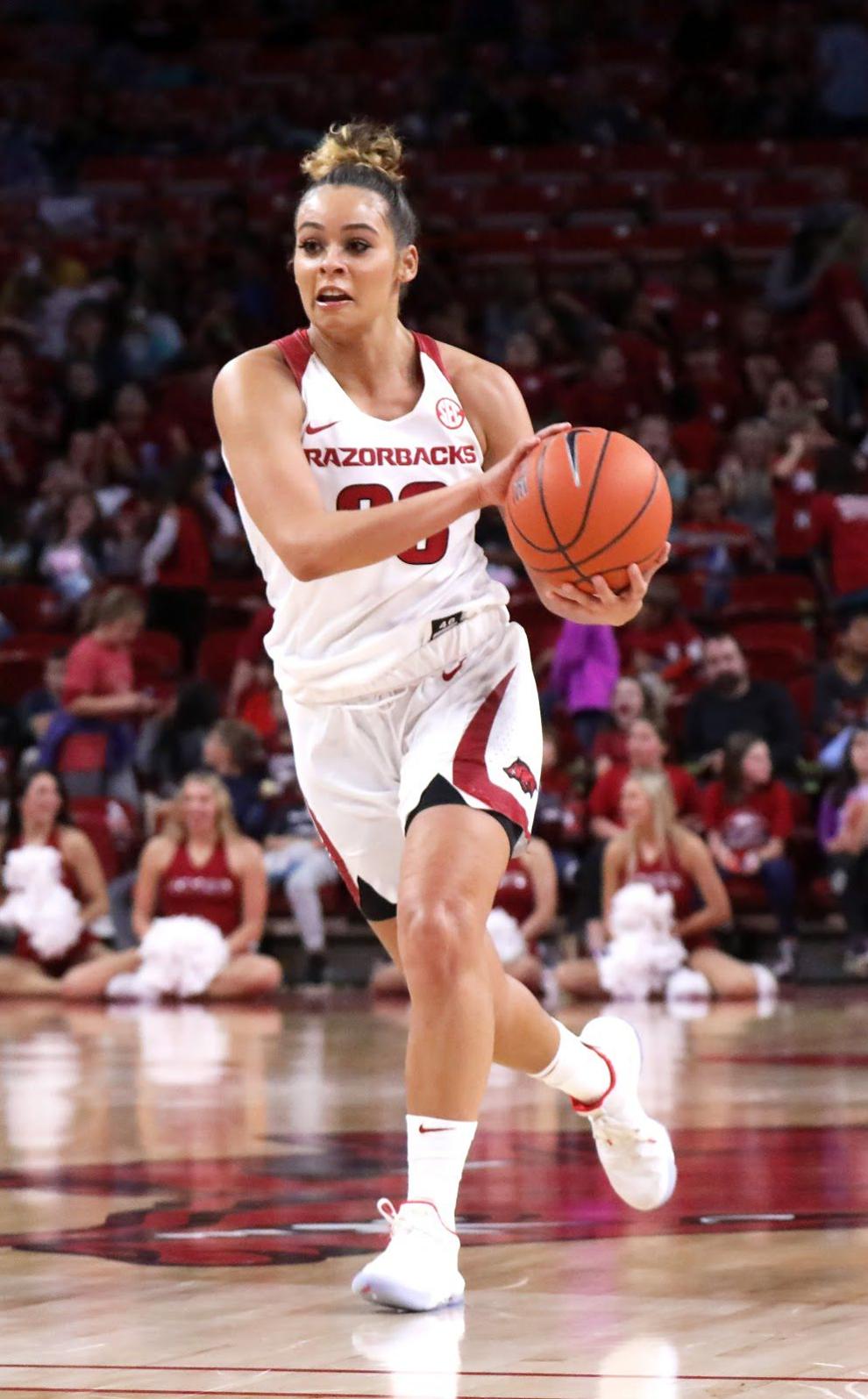 Arkansas started off slow and struggled guarding against Stony Brook, but drove a lot inside the paint that made the Seawolves back off, Ramirez said.
Junior guard Chelsea Dungee scored 19 points on the afternoon. She struggled with shooting, going 6-for-17 (35%) but went 8-for-9 at the free throw line, six total rebounds and a team-high plus-minus of 26.
"Being able to get to the basket drew the defense in quite often," Dungee said. "I think they even changed their game plan up a little bit and they stayed off of some really good shooters. We made them pay for it."
Freshman guard Makayla Daniels impressed after scoring 13 points and going 4-for-8 (50%) shooting. She also had four total rebounds, three assists and a plus-minus of 16. Daniels has now scored double-digits in all of her first four games this season.
The Hogs struggled early with shooting and also could not take the lead until later on in the first quarter.
"I know it's starting to sound like 'The Boy Who Cried Wolf,'" head coach Mike Neighbors said, "but [Stony Brook] was the best team we've played yet. I love that new stat they got on the stat sheet, FD, fouls drawn. That has become something that we are very cognizant of all times."
When the Hogs were trailing 11-8 in the first quarter, Dungee got fouled and made the shot. On the ensuing free throw, she tied the game up 11-11.
When trailing again 13-12, the Razorbacks went on an 11-2 run to close out the first quarter to take their first lead over the Seawolves, 23-15, and would hold onto the lead throughout the rest of the game.
With the Hogs leading 33-25 late in the second quarter, the Hogs knocked down five straight three-point baskets to extend their lead, eventually adding up with an 18-5 run to end the first half with the Hogs leading by a big margin of 51-30.
The Hogs kept a steady lead throughout the second half. The Hogs ended the third quarter with a 74-45 lead and eventually would end the game on a high note.
The Arkansas Razorback women's basketball team will look to preserve its perfect record as it faces the Belmont Bruins (3-1). Tipoff will be at Bud Walton Arena on Wednesday, Nov. 20 at 7 p.m.