The Arkansas Razorbacks' women's basketball team took on Oral Roberts University on Thursday night at Bud Walton Arena in their third regular-season game and earned a lopsided 96-64 victory.
Senior Alexis Tolefree started out the game for the Hogs by scoring a three-pointer that was just the beginning of her impressive night.
Tolefree finished out the game 7-11 on field goals and 4-8 behind the arc, scoring 18 points on the night. She also tied a career-high of three blocks. 
During the first quarter, the Golden Eagles held a deficit of four points for a minute before the Hogs started to pull away with a large lead. 
Arkansas went on to extend that margin by 18 points at the end of the quarter, only allowing ORU to score two more points for the rest of the quarter.
Freshman Makayla Daniels went 8-11 on field goals, including 6-7 from 3-point range. She scored 27 points on the night.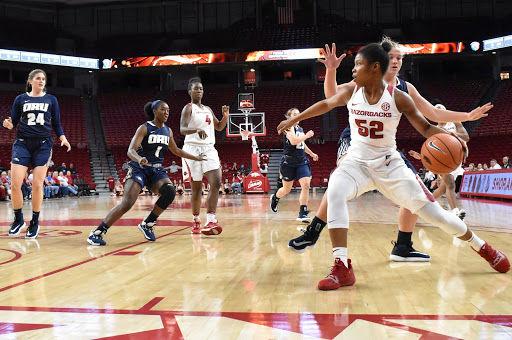 "The first one I shot wasn't really near the basket," Daniels said, "but my teammates in the timeout kept telling me to keep shooting and keep finding the open spot."
Daniels's dominating performance started in the first quarter. With four minutes left, she racked up two 3-point shots and four points in the paint. Going through the second quarter Daniels added 10 points. By halftime, she scored 20 out of the Hogs' 47 points.
"She earns that trust every day in practice with us," Tolefree said about Daniels in the post-game press conference. "The stuff she does out there every game she does in practice, so she builds that trust with us every day. It's inevitable how hard she works."
Throughout the game, ORU could not contain the Arkansas offense. The team shot 53% behind the arc, going 17-32 as a team.
"If we can continue to be that balanced offensively and keep improving defensively week in and week out, we have a chance to be pretty good," head coach Mike Neighbors said.
Defensively, the Hogs had nine blocks, seven steals and 11 turnovers. A rare event, both ORU and the Razorbacks had the same amount of rebounds at 44 apiece.
The highlight of the fourth quarter was when freshman Avery Hughes was put in for the last two minutes of the game. She went two-for-two behind the arc, sending the Razorback bench into a frenzy.
"She's been doing it to us in practice this whole time, so I'm glad she did it to another team," Neighbors said. "She's getting more comfortable too, she's a good shooter, she went 6-9 against the other team in an exhibition game against ourselves."
The women's basketball team takes on Stoney Brook (2-1) on Nov. 17 in Fayetteville.